Planet X Incoming:

Earthquake swarm continues at Taupo Volcanic Zone, NZ with more than 2339 quakes
Latest birth pangs from around the world...
This monthlong swarm of earthquakes has been ongoing since 13 February and consists of three major pulses of activity, with about 20 days between them about 10 km west of Turangi, New Zealand. To date, there have been 2339 earthquakes located, 587 since Friday 25 May. Currently, there are no indications that the earthquakes are related to volcanic activity, being located well away from the active volcanoes. But of course, nothing is more unsure! In this new activity phase, there
have been 11 earthquakes over M3, however, none are over M3.5. The events are occurring between about 4 and 12 km depth and most are in the 5-9 km depth range. The Taupo Volcanic Zone is a rifting area, growing wider each year by 6-9 mm.
These earthquakes are located on the western boundary of the Zone and are likely to be related to the long-term 'tectonic' stretching of the Zone.
READ MORE
Tropical Storm "Beatriz" to make landfall over Oaxaca, Mexico
Tropical Storm Beatriz made landfall on Mexico's Pacific coast with the threats of more heavy rain, flash flooding and mudslides, which will continue through Friday. The center of Beatriz is located 55 miles north-northeast of Puerto Angel, Mexico, and is moving north-northeast at around 7 mph. Beatriz is forecast to move across southern Mexico toward the
Bay of Campeche Friday into Saturday. Heavy rain has already soaked parts of Mexico's coastal Oaxaca state.
Puerto Angel reported more than 9 inches of total rainfall from the tropical cyclone
through Thursday. However,
due to its slow movement
, up to 10 inches of rain is possible in Mexico's Oaxaca state through Friday with isolated amounts up to 18 inches possible, according to the National Hurricane Center. Heavy rain is also anticipated in the Yucatan peninsula.
READ MORE
San Diego faces heightened risk of major earthquakes…
New research released this week found that a fault under the heart of San Diego can produce stronger and more frequent earthquakes than previously thought. It's the second study in recent months pointing to heightened quake risks in the San Diego area. Here is a breakdown: San Diego's Rose Canyon fault produces powerful earthquakes more frequently than once believed, according to researchers from San Diego State University.
SDSU scientists who studied the fault in
Old Town
determined that the system — which before about 1990 was thought to be inactive — generates a magnitude 6.5 to 6.8 earthquake about once every 700 years. Seismologist Tom Rockwell said that earlier work indicated that such quakes occur every 1,000 to 1,500 years on the 40-mile-long fault, which extends from San Diego Bay, through Old Town and across
Mission Valley
, and up Rose Canyon through Mt. Soledad, to offshore at La Jolla.
READ MORE
Miles of Antarctic ice collapsing into the sea
The acceleration
is making some scientists fear that Antarctica's ice sheet may have entered the early stages of an unstoppable disintegration. Because the collapse of vulnerable parts of the ice sheet could raise the sea level dramatically, the continued existence of the world's great coastal cities — Miami, New York, Shanghai and many more — is tied to Antarctica's fate.
Four New York Times journalists joined a Columbia University team in Antarctica late last year to fly across the world's largest chunk of floating ice in an American military cargo plane loaded with the latest scientific gear. Inside the cargo hold, an engineer with a shock of white hair directed younger scientists as they threw switches. Gravity meters jumped to life. Radar pulses and laser beams fired toward the ice below.
READ MORE
Worst drought in over a century strikes Cape Town, South Africa
Cape Town, South Africa's seat of Parliament and the legislative capital, is enduring its worst drought in over a century and severe water crisis. This forced officials to impose strict Level 4 water restrictions, effective as of Thursday, June 1, 2017. While the measures will have short-term effects, some experts warn them alone will not solve the problem.
Cape Town is using 5 dams to collect its drinking water, and as of May 29 those dams, collectively, are at 19.7%. This is 0.8% down since last week. However, since the last 10% of that water is not usable, Cape Town's 4 million residents have only 9.7% of usable water left, less than 60 days of normal consumption.

READ MORE
Weather anomalies around the world: Ice missiles in Bengladesh, spaghetti tornado in Mexico, huge sandstorm in Khartoum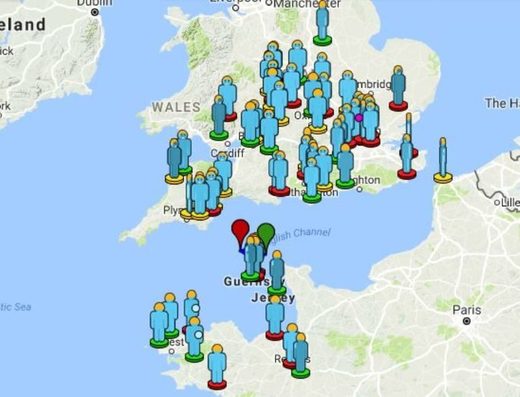 The American Meteor Society (AMS) received
68 reports
about a meteor fireball seen over England, Bretagne, Saint Andrew, Torteval, Saint Peter Port, Vale, Saint-Sauveur, Wales, Hauts-de-France and St Martin on Thursday, June 1st 2017 around 22:39 UT.
It was captured by UK Meteor Network's Wilcot station (see video below).
CGTN
YouTube
Fri, 02 Jun 2017 13:36 UTC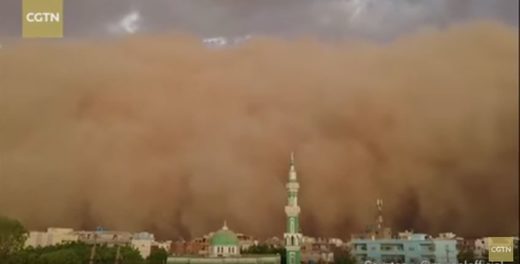 A massive dust cloud - known locally as a "haboob" - has recently swept across the Sudanese capital, Khartoum.
The storm has brought vast amounts of sand and dust into the city, burying several homes and severely limiting visibility.
Ecosystems and natural resources in the country have been deteriorating due to climate change. Water supplies are scarce and severe droughts are common. After years of desertification, the country's rich biodiversity is under threat and drought has hindered the fight against hunger.
Experts say that without rapid intervention, parts of the African country - one of the most vulnerable in the world - could become uninhabitable as a result of climate change.
June snow in Moscow just as Trump pulls out of Paris climate deal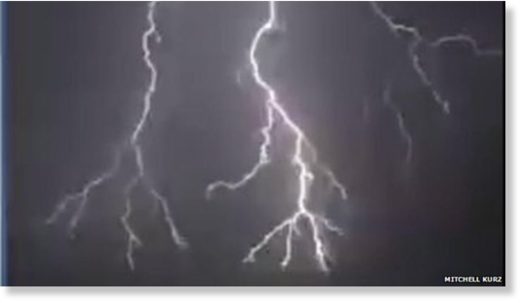 As autumn draws to an end, another front swept over Victoria over the weekend bringing more rain and blustery conditions. Along with this, a band of thunderstorms that a one point stretched from Nhill to Apollo Bay,
generated a total of just over 10,000 lightning strikes across the state.
As the front moved eastwards it delivered healthy amounts of rainfall to southern and central parts of the state, with 16.2mm recorded in just under 2 hours at Lara and 16mm in 3 hours at Ballarat. Eastern parts of Victoria saw lighter falls and as the front began to weaken and rain became more patchy.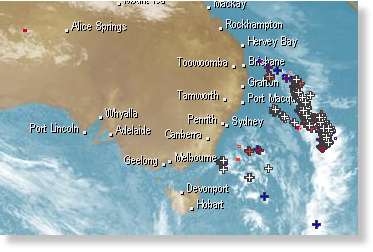 Behind the front, a colder airmass will see temperatures drop a couple of degrees for some parts today, with conditions looking to stay on the chilly side for the last few days of autumn. Over the next couple of days, more showers and the odd thunderstorm are a risk for parts of Victoria before things look to brighten up towards the end of the week, ready for the start of winter.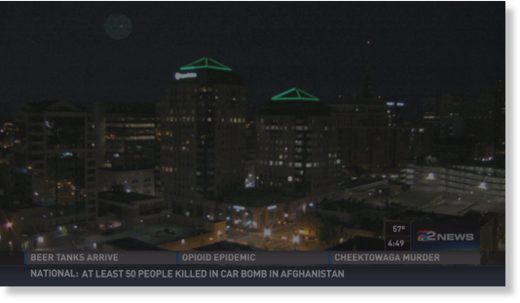 You never know what you are going to see in the wee hours of the morning on Daybreak, and this morning, while taking a live picture from our Buffalo weather camera, we caught a meteor falling on live television.
Storm Team 2 Chief Meteorologist Patrick Hammer says the meteor was probably the size of a baseball that burned up in the atmosphere
. In order for it to be caught on camera, it is likely that it was also much brighter and more brilliant to the naked eye.
See video footage
here
Meteor Experiment Asiago UniPd DFA
You Tube
Wed, 31 May 2017 08:59 UTC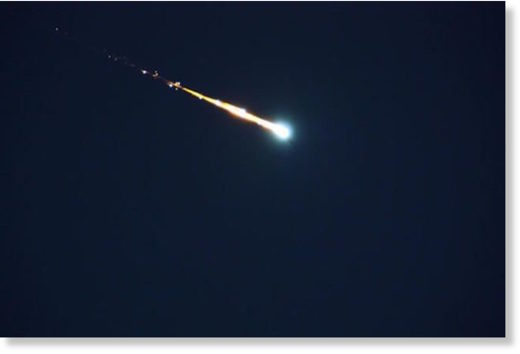 Fireball from Cima Ekar, Asiago at 2017 05 30 23 09 23
Planet X Incoming: Birth Pangs (April 2017)