Joe Joseph Warns: "There Will Be Major Changes… We're Out Of Time… This Is The Line In The Sand"
The
Daily Caller
reports that an English professor at the Northern Arizona University lowered the grade of one of her students who used the word "mankind" in an essay. According to Dr. Anne Scott, who runs a class about the human condition, docked the score because she says that students need to "respect the need for gender-neutral language:
"I would be negligent, as a professor who is running a class about the human condition and the assumptions we make about being 'human,' if I did not also raise this issue of gendered language and ask my students to respect the need for gender-neutral language," said Scott. "The words we use matter very much, or else teachers would not be making an issue of this at all, and the MLA would not be making recommendations for gender-neutral language at the national level."
This is just another sign of the times; a serious warning, according to Joe Joseph.
As Joseph highlights at
The Daily Sheeple Youtube Channel
, the reason for the push into gender neutral language goes much deeper than some leftist equality narrative:
It's because the people who control the public education apparatus – basically institutionalizing our children – are intentionally doing this to blur the lines… why?
We don't want manly men doing manly things… no… we want wussified people… we want controllable people…
Mankind is very much a word… it's very much a term.. you can find it in the dictionary… why can't we use that?
Oh, because it may hurt somebody's feelings… I can see where we're going here as a nation.
Watch as Joe Joseph explains how the masses are being dumbed down with such strategies and how the system will soon put them to use.
When we've reached a point in our country where wearing red, white and blue
is considered blatant racism
and asking teachers to verify that they know how to read
is called bigotry
, then it should be clear we have a serious problem.
With warmer weather upon us, Joseph warns that things could get very hectic, very fast, especially now that we know leaders on the left, including the media, are
prepared to support and use violence
to achieve their goals.
We're out of time… I firmly believe this is the year… This is the line in the sand… The point of no return… If we don't do something drastic this year to improve things in this country I guarantee you there will be major changes… hell, we could see a civil war… as hard as it is to envision.
Coming To An Inner-City Uprising Near You: The "Ultimate Riot Control Truck" Of The Future
One upon a time, the benevolent future was supposed to bemuse with hoverboards, flying cars and interplanetary travel. Instead, according to the folks at
Slovakia's Bozena Riot Security Systems
, the dystopian future has arrived, and it is made of armored plates and riot gear.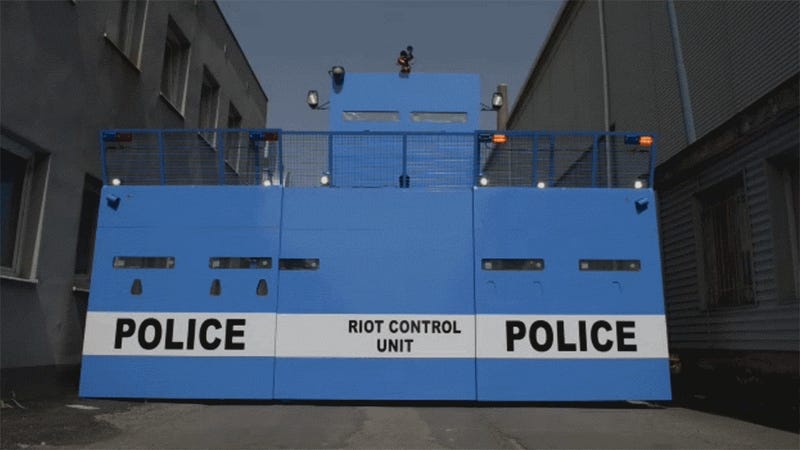 The Bozena Riot can handle virtually any duty when authorities need to put down an uprising: it is a remotely operated, armored vehicle designed to deal with riots and mobs in the streets and urbanized areas. The system offers a solution for both protecting the law-enforcement units in action and controlling the situation whenever peace maintenance is required.
The truck right out of RoboCop's OCP Detroit, has three components: a carrier, a 3000 kg adjustable shield, and a water trailer. Two water cannons can send protesters flying from the front or the rear and if that doesn't do the trick, police can always rely on the "high-pressure tear gas gun" to disperse any riot.
As
Gizmodo points out
, the unmanned unit is covered in CCTV cameras assuring full video coverage, while the driver gets to enjoy inner-city riots from a comfortable safe distance courtesy of this virtual cockpit which puts all control options at one's fingertips:
The truck's shield has six launching ports to fire guns or other rubber projectile launchers while keeping the heavily fortified shooters safe. Furthermore, should the truck's riot police passengers get stuck in an alleyway, the shield has bulldozing capabilities allowing authorities to directly engage with social discontents.
To be sure, the topic of
police militarization
in the US has been a particularly sensitive one in recent years, so perhaps the country will avoid this tool to quickly and efficiently restore post-riot order. Probably not: as Gizmodo notes, "the combination of an
increase
in law enforcement spending and Attorney General Jeff Sessions' pledge to
stop monitoring
out-of-control police departments seems to set up just the right environment to make it happen."
In any case, no matter on which side of the ideological divide one stands, and whether one roots for the authorities or the rioters who may soon suffer the wrath of the Bozena Riot, there are plenty reasons for everyone to be both delighted and concerned.
The video below courtesy of Bozena shows the prototype in action.

TCK: EndGame Has Begun: Riots, Race War & Revolution