DEVELOPING: Swarm of 300 earthquakes rattle Aupo Volcanic Zone in New Zealand
Planet X Incoming... Sinkholes galore!
A swarm of hundreds of small earthquakes hit northwest of Turangi, New Zealand.
The mega quake sequence is likely related to the quentching of the Taupo Volcanic Zone. Now is it related to volcanic activity?
The earthquake swarm
Between 6pm on February 13 and 9.30am on Wednesday, more than 290 events were recorded. The largest was a 3.8 magnitude quake at 9.35pm on February 21, 2017.
The swarm had three phases. By 9.30am Wednesday about 200 events had been located in the third phase,
which started Tuesday evening around 5pm and included the four largest of the swarm (M3.0, 3.4, 3.6 and 3.8).
But as the earthquakes are quite shallow they feel stronger than the magnitudes indicate. It's pretty much par for the course…
earthquakes in volcanic zones tend to come in pulses like this.
Cause of the earthquake sequence
The quakes are likely to be related to the long term tectonic stretching of the Taupo Volcanic Zone.
Currently, there are no indications that the earthquakes are related to volcanic activity, being located well away from the active volcanoes.
The Taupo Volcanic Zone
The zone is a rifting area, growing wider by 6-9mm a year. Stretching is due to the location of New Zealand across the plate boundary. As the plate is subducted you get rotation of East Cape. It pulls East Cape away from the rest of the North Island.
Larger damaging earthquakes did happen in the zone. The last significant one was the M6.5 Edgecumbe event in 1987.
In the past year in total about 500 quakes had been recorded in the area, with a total of about 800 in the past two years.
So more than half just occurred with 24 hours! There is something big going on there!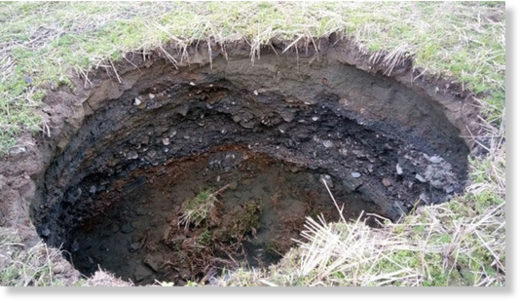 Subsidence, which is defined as the gradual caving in or sinking of an area of land, has been causing mysterious holes to appear all over the Cho Don District of the northern mountain province of Bac Kan, Vietnam.
At least 20 holes have been reported so far, and scientists are gravely concerned. Each of the holes is between 6 ½ and 16 feet in width, and from 6 ½ to 10 feet deep.
The Ban Tan hamlet in a town called Bang Lung has been the hardest hit, with more than 10 of the mysterious holes. A cause of great concern is the fact that some of the holes have appeared in water springs, causing some of them to dry up and resulting in shortages of both
drinking water
and the water needed for farming.
In addition to the holes, very long cracks, hundreds of feet in length, have also started popping up all over the place.
Farmers have been hit hard, with many of them losing ponds and finding cracks in their fields and even the foundations of their houses. One farmer lost 440 pounds of fish in a single day when a hole suddenly appeared in his pond. This is not the first time this area has been hit with the effects of subsidence, but the scope of the problem is far greater this time, making it much more serious.
Scientists who looked into the cause of the subsidence say that there are two main causes: First of all, most of northern and central Vietnam is characterized by what is known as karst topography. Put simply, karst topography is a landscape peppered with rocks such as limestone, dolomite and gypsum that can be dissolved by either surface or underground water. Scientists have found that underground caverns tend to develop in
areas with karst topography
, and external disturbances like drilling, fracking and the construction of foundations can cause these caverns to collapse. The second thing that seems to have contributed to the development of the giant holes is the pumping of ground water.
It would seem sinkholes are a recurring problem in Vietnam. In September of last year,
The Voice of Vietnam
reported that a huge sinkhole, 39 feet long, 30 feet wide and 33 feet deep, had developed in the middle of a national highway, bringing traffic to a screeching halt. The sinkhole started out small in August, but ongoing rain caused it to keep expanding.
It seems that the strange phenomenon of mysterious sinkholes is likely to continue for some time to come in Vietnam.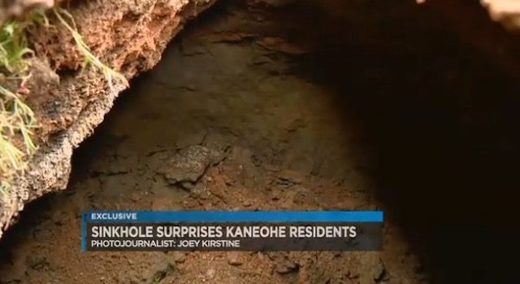 A large sinkhole split open Saturday night in a Kaneohe neighborhood, injuring one woman.
Sean Ishol said he and his wife were leaving their home around 6 p.m., when the grass alongside their driveway caved in. "My wife went to go get in her side of the car and she fell through," said Ishol.
Ishol canceled plans and took her straight to the hospital. Doctors recommended she will probably need to go see an orthopedic specialist to get an MRI done and make sure there's no torn ligaments," he said.
Fortunately no bones were broken, but extra medical expenses are an added worry for the couple who is in the process of moving to the mainland. Doctors also told his wife she will need to wear a leg brace.
"We're really sad because we intended on going on vacation to Arizona for six days and we wanted to go hiking and do things outdoors," said Ishol. "We don't put anyone at blame because no one could have known about this."
Ishol estimates the hole to be about seven feet deep and 15 feet wide. It's unclear what caused it and how long it's been expanding, but others who live on the property are concerned it will get worse.
"I've never seen that in this area before and my parking area is the same like theirs and I don't want any of my things falling in," said resident Bryce Gayagas.
Carl Frazier with Cornerstone Properties said in
over 20 years of managing properties, he has never dealt with anything like this.
"It has been a pretty wet season and lot of really heavy rains," he said. "It could be a case where it just eroded under the concrete somehow. Of course, we want to get that taken care of right away."
Frazier said a contractor will come to assess the area on Monday.
Planet X Incoming: Birth Pangs December 2016