GeoEngineering Watch: Radio Frequency Climate Manipulation Amounts To Weather Warfare
This blog covers the latest from the world of geoengineering.
Have you looked at the skies recently?
Climate engineering is a completely runaway juggernaut of total insanity. The planet's climate system is unraveling by the day as the geoengineers try frantically to control it with ever more desperate and destructive measures (
which were a primary cause of the climate disintegration in the first place
). As the photograph below clearly shows, powerful radio frequency transmissions have a profound effect on clouds that have been aerosolized by the jet aircraft spraying of toxic electrically conductive heavy metals.
RF transmissions over the Prince Edward Islands can be seen in the image below.
Massive Aerosol operations off the west coast of the North American continent, such
heavy spraying is used in conjunction with RF transmissions
.
Bizarre cloud configurations commonly occur due to the radio
frequency bombardment of the atmosphere for climate modification purposes
.
Lake Superior/Arrowhead region of N. Minnesota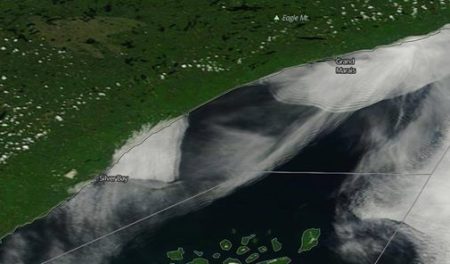 The following image is from the Eastern Pacific, June 26, 2015. The 90 degree angle cut out of the aerosolized cloud cover is a signature of RF influence.
After over 65 years of climate "intervention", very real damage has been done to the Earth's life support systems (along with countless other forms of anthropogenic destruction to the biosphere). The climate engineers are now appear to be attempting to use the very same intervention methods which caused the damage in the first place, to mitigate the harm already done. There is no sanity in this equation. The visible RF influence in the noctilucent cloud image below indicates probable
evidence of project "LUCY" and project "ALAMO" at work
. The ongoing
radio frequency saturation in our atmosphere is extremely harmful to living organisms, including us
.
The 2 minute video below is an excellent capture of RF manipulation on weather systems, it is shocking and well worth the time to view.
If we are to have any chance whatsoever of salvaging the planet's life support systems, climate engineering must be exposed and halted. Make you voice heard.
s Climate Engineering Real? Square Cloud Formations Are Undeniable Proof
Dane Wigington
geoengineeringwatch.org
The climate science and meteorological communities (along with mainstream media and countless other agencies) have long since completely sold out to the power structure. Countless individuals within these groups have committed themselves to what is nothing less than
a total betrayal of populations around the globe
(along with the entire web of life).
The ongoing global climate engineering assault
could not be more obvious or indisputable to anyone that does any objective investigation and has the courage to face reality. Yet, the so called "experts" continue to fortify the public denial of climate engineering by themselves adhering to the lie on the officially dictated blatant deception.
Radio frequency signals leave a very clear and visible signature, this signature is extremely recognizable on the image above.
Radio frequency transmissions are utilized for manipulating weather systems, cloud formations, and jet stream patterns
. The electrically conductive heavy metal nanoparticles (that are constantly being sprayed into our atmosphere by the the geoengineers) are manipulated with the
global grid of radio frequency transmitters
(which the weathermakers control).
Square cloud formations are not the only indication of the climate engineering insanity, voids in cloud canopies are also a telltale sign of the ongoing manipulation. Nature does not make 90 degree corners in weather systems.
The hazy wispy composition of many "clouds" seen in these satellite photos are also a result of heavy atmospheric aerosol saturation. Unfortunately the vast majority of the population currently cannot
distinguish between natural clouds and aerosolized artificial "cloud" cover
.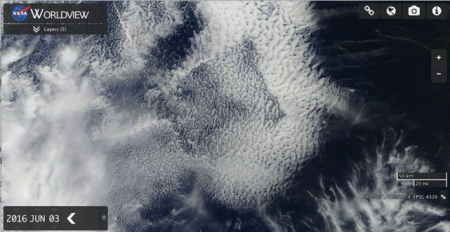 Squares within an existing canopy of aerosolized cloud cover are yet another profound signature of extreme atmospheric manipulation. These two photos (above and below) reveal extraordinary and completely unnatural variances of cloud canopy composition.
In the capture below, again, extremes of composition and geometry are shockingly clear.
90 degree notches taken out of existing aerosolized cloud canopies are increasingly being noted on radar images.
Photos like the one below have become commonplace in recent years as the climate engineers completely manipulate the flow of moisture entering from over the US West Coast.The ongoing
engineered drought catastrophe in California
is only one of countless horrific impacts form the geoengineering assault.
Record forest die-offs
and
record forest fires
are yet more downstream effects.
All of us completely depend on Earth's life support systems, these systems have been derailed and decimated for decades by the global power structure. Though many populations around the globe are already rapidly sinking into a daily fight for survival, the majority of citizens in heavily industrialized nations still have a choice (for the moment). So far, most have chosen
apathy, denial, and total willful blindness
. The masses must be awakened to the immense and immediate challenges we collectively face.
Earth's life support systems are literally collapsing
from countless forms of human activity. Climate engineering is the greatest assault on the biosphere ever launched by industrialized civilization. Exposing and halting the ongoing geoengineering insanity should be (must be) our top priority. Every single individual that is awake and aware of this most critical issue is needed in this all important battle. Help us to reach a critical mass of awareness with populations around the globe,
please make your voice heard
while we still have anything left to salvage of our once thriving planet Earth.
Geoengineering Watch Global Alert News, August 13, 2016


Why vaccines, pesticides and chemtrails are the top three weapons of mass destruction
Before delving into these highly controversial subjects, it is paramount to review the proper definitions of each, as they inherently relate to the relevant understanding of how each applies to today's "science," politics, the environment, and of course, human health and safety.

First, a weapon of mass destruction, or "WMD," is a chemical, nuclear, radiological or biological weapon that has the ability to kill and bring significant harm to a large number of humans, not to mention massive damage to human-made structures and the biosphere.

Pesticides are the only toxic substances released intentionally into our environment (on a regular basis) to kill living things. The term pesticide is an umbrella term that includes substances used to kill weeds (herbicides), insects (insecticides), fungus (fungicides) and rodents (rodenticides), among other agricultural "pests."

Chemtrails are part of an ongoing mass aerial dispersal of biological waste and pesticides that initially look like normal contrails, but are easy to detect because they do not dissipate quickly since they are not formed from normal water-based condensation. Chemtrails are also much thicker than contrails, and often extend across the sky in patterns of Xs and tick-tack-toe-looking grids.

Vaccines are experimental injections of disease-causing agents intended to conjure an unnatural, hyper-immune reaction in humans in order to ameliorate the effects of future infections by "wild" pathogens. Yet, the effectiveness of inoculation theory and practice has never been proven successful; in fact, "deadened" or "weakened" forms of microbes and viruses often spring back to life inside the injected humans, spreading or "shedding" the very infectious disease the immunization is supposed to prevent. Even if the injected victim does not become immediately ill from the dormant virus, known carcinogenic agents and genetically modified organisms are now prominent in all vaccines, including flu shots, and can cause severe health detriment in the short- and long-term.

These agents, or "adjuvants," often include mercury (listed as thimerosal), monosodium glutamate (MSG), formaldehyde (embalming fluid) and aluminum (known to cause Alzheimer's disease). No vaccine has ever been proven safe for humans, despite "paid for" research published by the manufacturers. Current immunizations are proven to contribute to the spread of over 25 known infectious diseases, including polio and measles.

Biological and chemical weapons utilized for population control in America and developing countries
No other country in the world is more interested in the cessation of population expansion than the USA, especially when it comes to eugenics – the racial profiling and proliferation of non-whites, as the globalists and elite super-rich pretend to help minorities and the under-privileged with "food" and "medicine."
In fact, U.S. law allows the testing of chemicals and biological agents on the civilian population. There is no conformed consent here, and there are no democratic voting procedures in place to protect human health, animal health or environmental welfare. Plus, many self-proclaimed philanthropists, like
Bill Gates and George Soros
, fund depopulation agendas by funding, promoting, and distributing GM (genetically modified) foods (cancer-causing, pesticide-laden food) and toxic vaccinations to unsuspecting populations.
Under the guise of help, entire populations of "undesirables" are being systematically wiped out by the very food and medicine they believe are helping them. Vaccines like DTAP and HPV are sterilizing many female teenagers. In fact, Kenya Catholic Doctors Association is charging UNICEF and WHO for sterilizing millions of girls at the beginning of their child-bearing age, under the guise of the "anti-tetanus" vaccination program that's sponsored by the Kenyan government itself. Scientific evidence from independent laboratories revealed at least half a dozen samples of the tetanus vaccine tested from various locations around Kenya confirmed their worst fears, as they tested
positive
for the HCG antigen used in anti-fertility vaccines!
Zika virus HOAX: Spreading of 'Naled' actually causes the birth defects mass media claims are caused by Zika
Right now, over a
10-square-mile area of Miami-Dade County
, EPA- and CDC-approved mass chemical warfare on humans is in effect, with the excuse tied to the Zika virus hoax. The highly toxic insecticide "Naled" (pun may be intended) contains dibrom, known to cause birth defects in humans, even in low concentrations. So, in effect, a weapon of mass destruction is being used in the name of fighting mosquitoes, and the U.S. population is so dumbed-down from fluoridated water and pharmaceuticals, that they believe the government actually cares about them and is trying to help.