Signs of the End:
The closest asteroid in over a century will pass by the Earth this Friday, September 1
OUTER SPACE - The closest asteroid in over a century will pass by the Earth this Friday, September 1.
Asteroid Florence, which is about 2.7 miles wide, will pass safely by the Earth at a distance of around 4.4 million miles. That's about 18 times the distance to the moon.
The close encounter will allow NASA scientists to study the asteroid up close. It'll be the closest asteroid to pass by the Earth since 1890, and the closest an asteroid will pass until after 2500.
The asteroid is named for Florence Nightingale, the founder of modern nursing, and was discovered by the Siding Spring Observatory in Australia in 1981.
It will be visible through telescopes for several nights as it moves through the Piscis Austrinus, Capricornus, Aquarius and Delphinus constellations.
More information about asteroids, and the work NASA is doing, can be found at
https://cneos.jpl.nasa.gov/
.
Earthquake strikes Guam hours after Kim Jong-un promises to target a US military base on the island
A magnitude 5.2 earthquake has struck Guam just a day after Kim Jong-un promised to target a US military base on the island. The US Geological Survey says the earthquake hit at 8am on Wednesday and that the epicenter was 51.7 miles (83.4km) southeast of Inarajan Village, a community of about 2,300 people. The earthquake had a depth of 6 miles (10km) and comes amid a period of intense hostility on the Korean peninsula.
The dictator was pictured laughing with top officials as the Hwasong-12 was unleashed on Tuesday and later warned the launch was a mere 'curtain raiser'. State media boasted that the test was timed to mark the 107th anniversary of the 'disgraceful' Japan-Korea treaty of 1910, under which Tokyo colonised the Korean peninsula. It was part of 'a bold plan to make the cruel Japanese islanders insensible on bloody August 29', the KCNA agency said.
READ MORE
Floods in India, Bangladesh and Nepal kill 1,200 and leave millions homeless
At least 1,200 people have been killed and millions have been left homeless following devastating floods that have hit India, Bangladesh and Nepal, in one of the worst flooding disasters to have affected the region in years. International aid agencies said thousands of villages have been cut off by flooding with people being deprived of food and clean water for days.
South Asia suffers from frequent flooding during the monsoon season, which lasts from June to September, but authorities have said this year's floods have been much worse. In the eastern Indian state of Bihar, the death toll has risen to more than 500, the
Straits Times
reported, quoting disaster management officials. The paper said the ongoing floods had so far affected 17 mllion people in India, with thousands sheltered in relief camps.
READ MORE
DEVELOPING: Houston Bridges and Roads Buckling Under Pressure From Flood Waters!
Some roads and bridges in Houston are starting to buckle under the impact of catastrophic flooding in parts of the city from Tropical Storm Harvey, a local official said on Tuesday. Jeff Linder of the Harris County Flood Control District said one bridge had collapsed and that some roads had been damaged by the torrential rains.
Water levels at two reservoirs to the west of the city continue to rise, where more than 3,000 homes have been flooded, Linder added. The level of Buffalo Bayou, a major drainage system that runs through the city, is holding steady and may not recede for days, said Edmond Russo, deputy engineer with the U.S. Army Corps of Engineers.
READ MORE
49 and Counting, Harvey sets Texas rainfall record for tropical cyclone
According to new reports, Tropical Storm Harvey has set a rainfall record for tropical cyclones in the state of Texas, with 49.32 inches (125.3 cm) of rain observed at a location southeast of Houston, the National Weather Service said on Tuesday.
The state's previous record was established in 1978 by cyclone Amelia, in Medina, Texas, according to the NWS. A total of 14 observed locales have seen more than 40 inches of rain as of 11 a.m. EDT (1500 GMT) during Harvey, NWS said.
READ MORE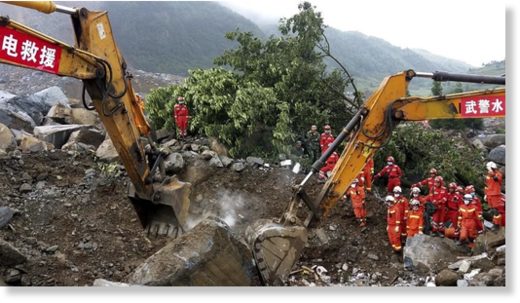 Two landslides in rural areas of China have killed 30 people with at least another 12 missing, according to state media reports Wednesday.
The death toll from a large landslide that struck a town in southwestern Guizhou province on Monday rose to 23 while a second landslide on Wednesday killed seven people in the northwest of the country.
More than 600,000 cubic metres of rock and mud had fallen in the town of Zhangjiawan in Guizhou, and rescue efforts were continuing to find 12 people still missing, the official Xinhua news agency said.
Separately, seven people were killed and two injured in a landslide that struck a village in Machin county of northwest Qinghai province, Xinhua reported.
China has seen heavy rainstorms across the country over the past week.
Landslides are a frequent danger in rural and mountainous parts of China, particularly after heavy rain.
In June and August massive landslides in the southwestern province of Sichuan killed more than 30 and left scores missing.
In July 63 people were killed by landslides and floods in the central province of Hunan. Some 1.6 million people were forced from their homes.
Last week powerful Typhoon Hato killed 18 people as it tore across southern China, including Hong Kong and Macau.
Rajendra Jadhav and Swati Bhat
Reuters
Tue, 29 Aug 2017 20:51 UTC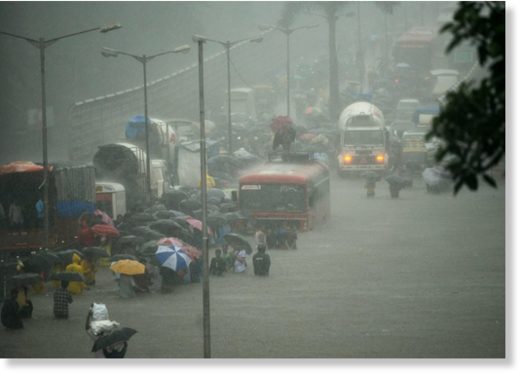 Heavy monsoon rains brought India's financial capital to a halt on Tuesday, with authorities struggling to evacuate people with the scheduled high tide adding to the chaos.
Incessant rain flooded several parts of Mumbai and paralyzed train services used by millions of commuters daily, with many stranded at stations and hundreds of others walking home through waist-deep water on railway tracks.
Poor visibility also forced airport authorities to divert some flights while most were delayed by up to an hour.
Thousands, some abandoning their water-logged cars, waded through waist-deep water to reach home after some parts of the city received as much as 297.6 millimeters (11.72 inches)of rainfall. Children were sent home early from school.
Mysterious noises in the sky of Iran terrifies residents of Astara