Earth Changes: Massive Sinkhole Swallows Entire Intersection In Japan & Pennsylvania
A gigantic sinkhole has opened up in the southwestern Japanese city of Fukuoka, swallowing an entire intersection of a 4-lane highway. While the cause of the sinkhole is still under investigation, crews were working underground nearby to extend a subway tunnel and are thought to have triggered the collapse.
"And the Earth Shall Swallow up..."
No injuries or casualties were reported though over 100 buildings in the area were cut off the electricity grid. Police have evacuated nearby buildings and closed the roads leading to the pit, which officials are reporting currently measures about 20 meters in diameter.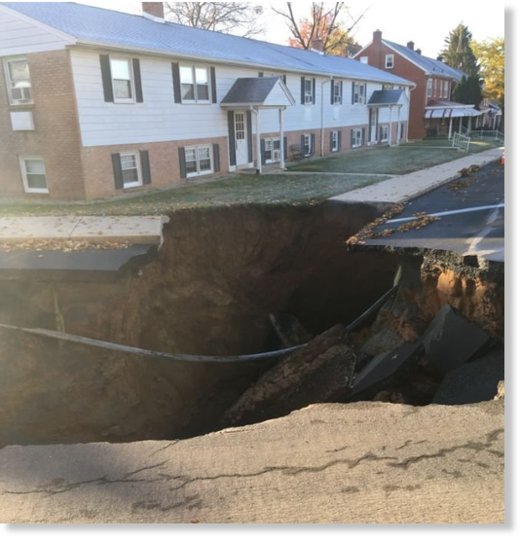 A 30-foot-wide sinkhole more than 20 feet deep swallowed a street intersection in Ephrata and forced the evacuation of two apartment buildings on Tuesday.
At some point overnight Monday, a 12-inch water main pipe broke under the street at West Pine Street and Park Avenue, Ephrata police Sgt. Philip Snavely said. Water spewed out, eroding the surrounding soil.
A motorist around 5 a.m. blew out a tire when he struck a jagged dip in the roadway, Snavely said. He reported the sagging street and police closed the intersection to traffic.
Around 6 a.m., a large part of the intersection collapsed, taking part of the streets and sidewalks with it, he said.

"It took out the whole intersection,"
he said. No one was injured. The collapse also caused a natural gas line to sag, though it did not rupture. Firefighters were dispatched to help at the scene.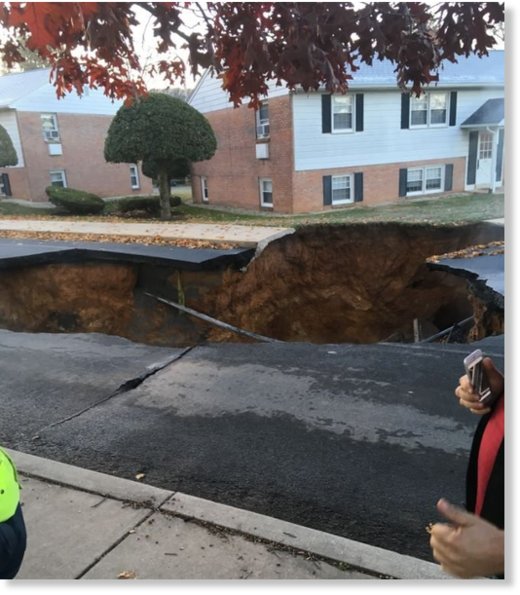 The precarious position of the gas line forced police to evacuate families from two nearby apartment buildings, Snavely said. All 12 apartments in the buildings are being rented, but not all the residents were home. He did not how many people were evacuated.
They were not allowed back in their homes until 11:30 a.m., he said. Water and gas were shut off to the area.
Ephrata fire Chief Allen Pettyjohn said the sinkhole spans the width of a street and is 20 or 30 feet long. Snavely added the sinkhole is 20 feet deep, but a cavern of unknown depth lies below the part of the sinkhole which can be seen.
Snavely said the sinkhole will not be fixed for at least two or three days. A call to the Ephrata Borough office and public works department was not immediately returned.
Pettyjohn could not remember a larger sinkhole in the borough in recent years.
Planet X System Incoming: Birth Pangs (September 2016)