Latest Earth Changes: 6-meter sinkhole swallows Russian car (VIDEO)
Additional headlines within (meteorites/earthquakes).
Planet X system is incoming...
Probably not as epic as James Cameron's Titanic, but this Russian flick has its share of vehicles slowly submerging too. A Lada Kalina car drowned in a sinkhole as its owner franticly waited for rescuers to arrive ... but it was never seen again.
Footage of the car's descent into muddy abyss of Ufa, a city in the Urals, was uploaded online by an eyewitness, who said by the time rescuers arrived at the scene, the vehicle was
"up to its glands"
in the water.
Local news channel 360 reported that rescue workers drained with pumps the six meter sinkhole but found no car in it. They said it had been carried away by the stream of water that washed over the earth in the first place.
The owner of the car told the reporters that she will sue the municipal authorities for damage.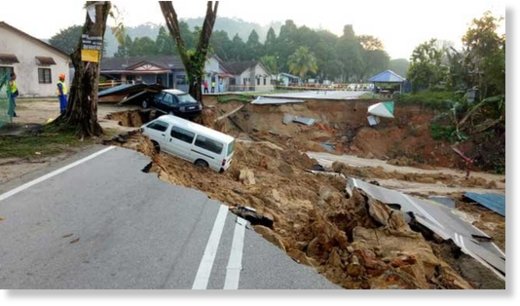 One person was injured and at least 10 vehicles were buried in a major landslide which struck Taman Idaman, Serendah early this morning.
At least six cars, two motorcycles and one van were swallowed up by earth in the 1.20am incident.
The injured person was identified as Mohd Fareez, 21, was on his motorcycle when the landslide occurred. He was sent to the Selayang Hospital.
Most of the affected vehicles were parked 50 metres from the location where the landslide took place.
The scene now resembles a major disaster area, with the landslide having opened up a huge gap along the surface.

Vehicles and foodstalls have fallen into the gap.

Selangor Fire and Rescue assistant director (Operations) Mohd Sani Harul said six personnel from the Kuala Kubu Bharu fire and rescue station were dispatched to the scene.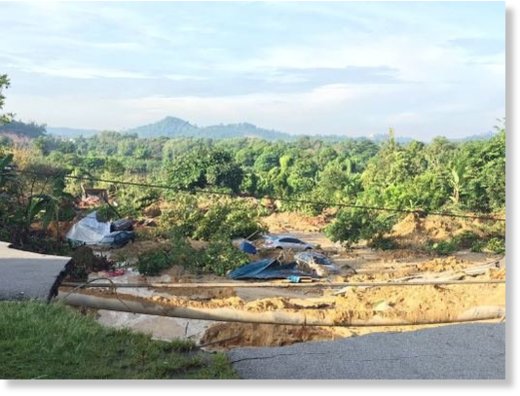 "We are checking to see whether there are any other victims who may be trapped and search and rescue efforts are being carried out," he said.
The main road to Taman Idaman has temporarily been closed off.
At least six cars, two motorcycles and one van were swallowed up by earth in the 1.20am incident. The scene at Taman Idaman, Serendah now resembles a major disaster area, with the landslide having opened up a huge gap along the surface.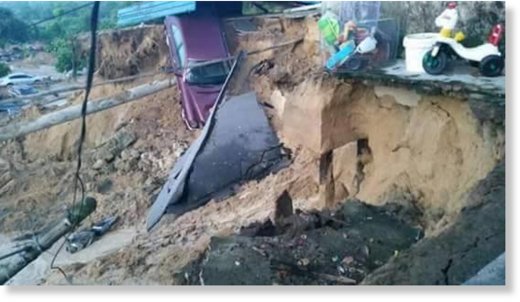 Residents of Sungai Serut District, Bengkulu City, were surprised by a rock that is alleged to be a meteor that ripped through a house owned by Wahab (56), on Wednesday, November 24, 2016.

At the time of the incident, according to Wahab, he was having a casual conversation with his friend. Suddenly, they heard a loud thump from the inside of his house. The noise originated from his kitchen.

After a quick search, Wahab found a rounded smoky object that is as big as a basketball that had made it through his kitchen roof. "Not only did it hit the roof, the rock also destroyed the water dispenser and a water gallon, as well as a table," he said.

Wahab and a number of his friends flushed the rock with water and placed it outside the house. The locals broke the white-colored rock to pieces and gave it to a number of people as they believe that the meteorite has a certain effect.

The rest of the rock has been handed over to the police.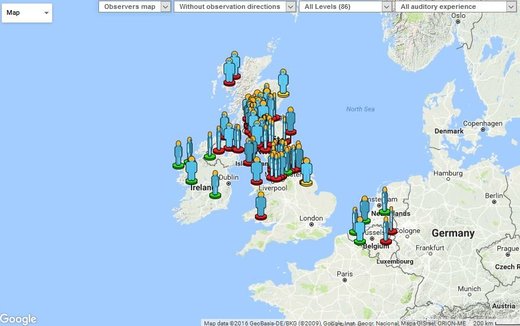 A fireball was spotted streaking its way through the skies over the UK and Ireland last night.
People reported seeing the meteor from Swansea all the way to Moray.
The only known visual evidence of the fireball was recorded by a web cam in Galway, Ireland, at around 5.15pm as it blazed its way overhead.
The fireball was spotted by people in Belfast, Galway, Dundee, Glasgow, Ayrshire, Skipton, Cumbria, Swansea, Merseyside, Alnwick and York.
And it wasn't long before people took to social media to share their sightings.
Amateur astronomer Brian MacGabhann, from Galway, captured the only known footage on a dash-cam in his car.
He shared the footage on Facebook and said he spotted the meteor in the North East from where he was in Galway.
He wrote: "It seemed to break up a bit before exiting the atmosphere."

Andy Harrold, from Moray, wrote: "I was looking at Venus at time it came streaking past, broke up & disappeared."

Fellow Scot, Robert Gibson, from the West of Scotland, wrote: "I saw it, breaking into multiple parts as it crossed the sky from east to west, looked amazing."

Steve Owens, planetarium manager at Glasgow Science Centre, said: "This was a very bright meteor, known as a fireball, which was seen by sky watchers across Scotland, Northern Ireland, and northern England around 5.15pm last night [23 November].

"The piece of space rock that burned up in our atmosphere, causing the fireball, was perhaps the size of a pebble.

"As it slammed into the Earth's atmosphere it compressed the air in front of it, heating it to such extreme temperatures that the meteor burned up, appearing to glow brighter than the brightest star for several seconds.

"This happened high up in our atmosphere, and so it was seen across much of the northern UK."

If a piece of the space rock survived all the way to the ground it would be termed a meteorite rather than a meteor and could be worth a significant sum of money.

In the past meteorite hunters have offered five-figure sums of money to anyone who can prove they have genuine pieces of a space rock that landed in Britain.

Steve Owens, said it was likely the meteor burned up completely in the atmosphere.

People who spotted the meteorite have been asked to report it to the Society for Popular Astronomy who can use that data to pinpoint its path.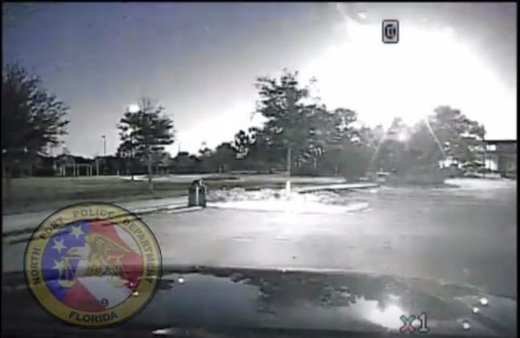 Reports of a bright flash in the Western sky out over the Gulf of Mexico late Monday night.
At around 11:18 P.M. on Monday there was a bright light that lit up the night over the Suncoast.
We have had numerous reports of this "fireball" moving toward the west out over the Gulf of Mexico.
Josh Stone ABC 7 meteorologist saw it out his window and said
"Never seen anything like that before,.....looked as bright as the sun....heard a little rumbling after it faded away".
Getting numerous reports of the fireball from North Port to Bradenton about this bright light in the sky.
Strong Earthquake in remote far-western China kills One
A strong earthquake in a remote area of China's extreme west has killed at least one villager after a home collapsed, authorities said Saturday. The seismological bureau of China's Xinjiang region said that 55 homes were damaged and 32 collapsed in an area bordering Tajikistan and Kyrgyzstan in the quake that struck late Friday.
The government has dispatched emergency response workers and closed some railways in southern Xinjiang. The U.S. Geological Survey said the quake had a preliminary magnitude of 6.5 and struck western Xinjiang Uyghur Autonomous Region. The USGS reported the quake as quite shallow, at a depth of 12 kilometers (7.5 miles).
READ MORE
Town in Australia turned white from severe Hail Storm
A Queensland town has been turned into a white wonderland after a severe thunderstorm brought through some heavy hail. Killarney, southeast of Warwick, looked as if it had been hit by a snowstorm following the battering on Sunday afternoon. Large hailstones, fierce winds and heavy rain has hit parts of the southeast, as two thunderstorms sweep through the area.
One storm was detected on the radar about 3.30pm near Peak Crossing, southwest of Brisbane. It was heading in a northwest direction and was expected to hit Bundamba Lagoon and the area south of Amberley by 4.05pm and Amberley, Rosewood and south of Cunninghams Gap by 4.35pm.
READ MORE
Thousands of Herring washing ashore in St. Marys Bay leaves scientists puzzled
Scores of Atlantic herring are washing up on the shores around St. Marys Bay, N.S., but the reason isn't clear. Within the last week, the herring have appeared on a 20-kilometre stretch of shoreline running between Marshalltown and Gilberts Cove. "It seems to be a bit of a unique event in terms of just the sheer numbers that are showing up dead," said Shawn Craik, a biology professor at Université Sainte-Anne.
On Friday, Craik took some students to the shore at Gilberts Cove. He said that in some spots, there were eight fish washed up in a square-metre block. "If you extrapolate that over the entire beach, we're talking about thousands of fish," he said. While there, he spoke with a clam fisherman who said that in his 40 years of clamming on the beach, he had never seen anything like this.
READ MORE
Floods Strike 96 Villages in Indonesia
Bojonegoro subdistrict's Disaster Mitigation Agency (BPPD) reported that 96 villages in 15 districts in the area were struck by flood due to overflow of Bengawan Solo river with 14.82 meters of water level (flood warning) on Saturday at round 2 o'clock in the afternoon (26/11).
"The flood from the river does not only inundate rice field areas, but also residential areas with 0.50-1 meter high of water," Bojonegoro's BPPD head Andik Sudjarwo said in Bojonegoro, East Java on Saturday (26/11). Based on BPPD data, the 96 villages are located in districts of Padangan, Trucuk, Malo, Dander, Kota, Balen, Kapas, Kanor, and Baureno.
READ MORE