St. Lawrence Justinian, Patriarch of Venice
by Father Francis Xavier Weninger, 1876
S
t. Lawrence was a descendant of the noble house of Giustiniani, greatly famed at Genoa, Venice and Naples. He was born 1380, of very pious parents, but early lost his father, Bernard. His mother, on whom now devolved the education of her children, redoubled her care, but Lawrence gave her very little trouble, as he was naturally inclined to virtue. One day, she made him understand that she feared he harbored ambition or pride secretly in his heart; but he answered: "fear not, mother; I have only one ambition, and that is to become a great servant of the Lord, and to be more pious than my brothers." His conduct in youth bore witness to his words; for though he lived at a period when the morals of the whole city were very corrupt, his edifying life was regarded by everyone with surprise and admiration.
T
o escape the danger which threatened him, he prayed most fervently to God to give him the grace to know the vocation to which he was called. While, one day, kneeling before a crucifix and an image of the Blessed Virgin, he said his prayers for this intention, he felt deep within him an intense desire to leave the world, and to serve God in the religious state. He obeyed the heavenly voice, renounced the world and all its allurements, went to the Regular Canons of St. George, in Alga, an island near Venice, and requested to be received among their number. His request was granted, and he began his novitiate cheerfully; but he soon manifested in his conduct that he was no beginner in the science of holiness, but a proficient. His superiors had much more difficulty in moderating his zeal than in animating it.
A
mongst other austerities which he practiced to mortify himself, it was specially noticed that, even on the coldest days, he never warmed himself by the fire, and that, in summer, he took nothing to allay his thirst except with his meals at noon and evening. He was never seen taking the air in the convent garden, or enjoying the beauty and fragrance of the flowers. The only time when he visited his home was when he was called to see his dying mother. Still more to be admired is the fortitude with which he bore a very painful and dangerous operation on his throat for the removal of a great tumor. He himself encouraged the surgeon to begin fearlessly. "Cannot Christ," said he, "give me as much fortitude as He gave to the three youths in the furnace?" Not even a sigh escaped him during the operation he repeated only the names of Jesus and Mary. When those present uttered their profound astonishment at his self-control, he said: "How little is my suffering compared with that of the holy martyrs, who were tortured with burning torches and red hot irons, or roasted over a slow fire."
A
fter Lawrence had been ordained priest, he daily said Mass with great devotion and seldom without tears. During the Mass on Christmas-night, heaven bestowed upon him the grace to behold his Saviour in the form of a lovely child, to the inexpressible comfort of his heart. Although he desired to remain free from all offices of honor, he was chosen general of his order, and sometime later was nominated bishop of Venice, by Pope Eugenius IV. The humble servant of the Almighty endeavored in every possible manner to escape this dignity; but at last obliged by obedience, he accepted it. As bishop, he altered nothing of the austerities he had practiced in the monastery; he visited his whole diocese, and with apostolic zeal, animated his flock to observe the Commandments of God and the Church. His income he used for the benefit of the Church and the relief of the poor.
B
esides several collegiate Churches, he founded fifteen religious houses, and daily fed a great number of poor. The answer he gave to one of his relatives, who requested a contribution out of the Episcopal revenues as a marriage-portion for his daughter, must not be omitted. "It will not satisfy you if I give you but little," said he; "and if I give you much, you alone will receive it, and many others will have nothing. No, the Episcopal revenues must not be used for worldly luxuries, but to comfort the needy. Be not offended, therefore, that I cannot fulfill your desire." Thus spoke the holy bishop, whom Pope Nicholas V. soon after raised to a still higher dignity.
T
he Patriarch of Grado died; and as the Pope desired to nominate Lawrence as his successor, but was convinced at the same time, that the Venetians would not consent to part with their bishop, he transferred the Patriarchal chair to Venice, and declared St. Lawrence the first Patriarch of Venice. This city had indeed great reason to use all possible means not to lose the Saint, as only on his account God averted a terrible and well-deserved punishment from its walls. There lived at that time, in the Island of Corfu, a hermit, famous for his holiness, who, one day, said to a Venetian noble, who visited him: "The inhabitants of Venice have provoked God's wrath, by despising His words, and had not the tears of your Patriarch cried to Him, you would all have long since gone to destruction like the inhabitants of Sodom."
W
hile the holy Patriarch was assiduously occupied with the functions of his high station, his strength gradually gave way and he felt his end approaching. On the feast of the Nativity of Christ, he felt, during Holy Mass, an intense desire to be admitted into the presence of his God. A fever, which seized him soon after Mass, ended with his death in a very few days. He lay on the bare floor, and not even in his last days could he be persuaded to make use of a softer bed. "Jesus Christ," said he, "died upon the hard wood of the Cross, and you desire that a sinner, like me, should lie soft and comfortable!" After receiving the holy Sacraments, he gave his last instructions to those around him. "Keep the Commandments of the Lord," said he; "nothing is more noble or excellent than to serve God." After having finished his discourse, he raised his eyes to heaven and said: "I am coming, O my Jesus!" and his soul went to God. Thus ended, in the seventy-third year of his age, the earthly career of this great and holy Patriarch. That his life in heaven had begun, was known by the manner in which the Lord honored his holy body, from which emanated a heavenly fragrance; as also, by the miracles which, at the intercession of the Saint, took place at his tomb, in favor of the infirm and the possessed.
PRACTICAL CONSIDERATIONS.
B
efore I give to your special consideration several points of the life of this Saint, I must remind you of what you have just read about the preservation of Venice from destruction, by reason of the prayers of St. Lawrence. Learn from this that pious persons may be the greatest public benefactors, and that God has frequently averted, in their behalf, well deserved punishment from cities and even whole Kingdoms. Thus He promised to protect Jerusalem from destruction, in consideration of His faithful servant, David. "I will protect this city for my own sake, and for David, my servant's sake." (IV. Kings, xx.) Judge from this, how wrong they are, who imagine and say, that religious Orders, among whose members there are many pious and faithful servants of the Lord, are of no profit to communities, but only a burden. If many cities, many states, had been deprived of such intercession with God, who knows if the earth would not long since have swallowed them, or if they would not have been destroyed by fire from heaven, by famine, pestilence or war? Pious priests, pious religious, by their prayers, their works for the salvation of men, have averted such punishments. Can you, therefore, say they are useless, or a burden to the community?
C
onsider, further, that Venice should have been punished for disregarding the word of God. The inhabitants were slothful in hearing the Gospel: they disregarded it, and were present rather at plays and similar amusements, than at sermons. They respected not the priests, who expounded the Gospel to them, but they blamed, slandered or otherwise persecuted them. This aroused the wrath of the Most High, and He was about to punish the offence done to Him by the destruction of the entire city. I say the offence done to Him: for, disregard of the word of God and of those who teach it, is an offence offered to the Majesty of the Most High, just as it is an affront to a king, or others set above us, when we do not respect their will and when we insult those who make it known to us.
G
od speaks to us, at the present time, by His priests, as He spoke in the Old Testament by the Prophets, and in the New by the Apostles, to whom Christ said: "He that heareth you, heareth me; and he that despiseth you, despiseth me." (Luke, x.) Hence, all those who despise the word of God or His priests, despise the Almighty Himself: a most grievous wrong to Him, which will surely draw after it a great punishment. It is awful to read what Christ says of those who neither receive the Apostles, nor listen to their instructions. "Amen, I say to you, it shall be more tolerable for the land of Sodom and Gomorrha, in the day of Judgment, than for that city." And soon after, Christ said of the cities, in which the inhabitants listened to the Gospel, but did not live in accordance with its teachings: "Woe to thee, Corozain, woe to thee, Bethsaida; for if in Tyre and Sidon the miracles had been wrought, that have been wrought in you, they had long ago done penance in sack-cloth and ashes. But I say unto you: it shall be more tolerable for Tyre and Sidon in the day of Judgment, than for you. And thou, Capharnaum, that art exalted up to heaven, shalt go down even unto hell; for if in Sodom had been wrought the miracles that have been wrought in thee, perhaps it had remained unto this day. But I say unto you that it shall be more tolerable for the land of Sodom in the day of Judgment, than for thee." (Mark, ix.) The menace of Christ to these cities and their inhabitants should be taken to heart by those who are slothful in listening to the word of God, or who disregard those who expound it, and lend no willing ear to their admonitions. I now come to those points, in the Life of St. Lawrence Justinian, which especially call for a closer consideration, in order that we may imitate them.
I.
S
t. Lawrence cheered himself in his sufferings by recollecting those of the holy martyrs. "What are the pains I endure," said he, "in comparison with those endured by the martyrs? "If you have to bear anything, use the same means. Think or say to yourself: "What is this, my pain, my anguish, compared with the sufferings of the Saints ? What is my agony in comparison with what my Saviour bore for love of me? " Descend also, in imagination, into hell, and ask yourself: "What are my torments compared with those endured in hell: and what should I not suffer in hell if the Almighty had taken me from earth in my sins?" If you will meditate on these three points, it will be impossible for you to complain about your suffering. All will appear easy and trifling to you, as it is in reality, if contrasted with what Christ and the Saints suffered, and what the damned in hell have to endure.
II.
T
he last instruction of St. Lawrence was: "Keep the Commandments of the Lord;" a short but very comprehensive lesson, on the observance of which everything depends. Those who conform their lives to it, will surely go to heaven, as those who neglect it, will go to hell. Some expect to gain salvation by other means and thus escape hell. They imagine, for instance, that when they wear a blessed scapular about their neck, keep certain fast-days during the year, or daily say certain prayers, they will certainly save their souls, although they are otherwise but little concerned about keeping the laws of God. What wrong ideas are these! how dangerous a delusion of Satan ! It is praiseworthy and beneficial to wear a sacred scapular, and to observe other pious practices; but it is most certain that by doing so, we shall not escape hell, nor gain heaven, without keeping the Commandments of the Lord. These must be adhered to before all else, as they are the surest, the most necessary means for our salvation. Hence your first, your greatest care must be to observe them, and as the Lord also commands you to obey His Church, you must also follow her. Imprint this lesson deeply into your heart, and live in accordance with it. "They are cursed who decline from thy Commandments." (Psalm cxviii.).
St. Laurence Justinian – September 5
Prof. Plinio Corrêa de Oliveira
Biographical selection: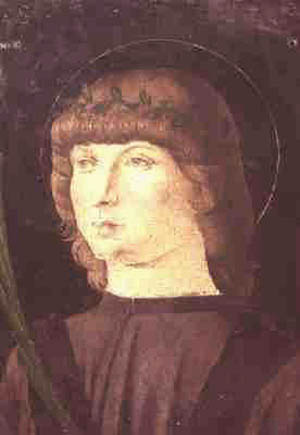 St. Laurence Justinian as a young man by Bellini
Laurence was born into the illustrious Venetian family of the Justinians (Giustiniani), and while still a child, he was remarkable for the seriousness of his character. His piety produced admiration and respect.

At age 19 he had a vision of Eternal Wisdom inviting him to unite himself with it. He entered the religious life in the Augustinian Order of the Canons of St. George on Alga Island, one mile from Venice. He was noted for his great austerities and humiliations. He used to go beg alms for the community, and often received sarcastic barbs instead of goods, for which he thanked God.

Soon after his ordination he was elected General of his Order. He reformed it so profoundly that he is considered its second founder. In 1433 he was named Bishop of Venice. He tried to refuse the dignity, but Pope Eugene IV obliged him to accept it. He brought peace to numerous state quarrels, founded 15 new monasteries and added many new parishes in which he took a special care of the accuracy and beauty of the divine worship.

In 1450 he was elected Patriarch of Venice. The ecclesiastic reform he made in Venice is justly considered a precursor to what St. Charles Borromeo did in Milan after the Council of Trent. His books and sermons transmit a great devotion to the Passion of Our Lord. On January 8, 1455 he died. He was beatified in 1524 by Clement VII and canonized in 1690 by Alexander VIII. His feast day was established for September 5, the day of his episcopal consecration.

Comments of Prof. Plinio:

First, it is interesting to see that since his childhood St. Laurence Justinian was marked by a profound seriousness and that his piety produced admiration and respect. Anyone who saw him was impressed by his seriousness. This is the way it should be. According to the sentimental piety that infiltrated the Church in the 18th and 19th centuries, the saints should all be amiable, tender, and soft. St. Laurence was the opposite of such a model since his childhood. This is excellent! I don't deny that piety at times can cause tenderness, but to hold it up as the principal note of sanctity seems absurd to me. According to the selection, his piety produced admiration and respect. These are the true characteristics of sanctity, as God always causes respect and admiration, and the saint is a man who lives with God.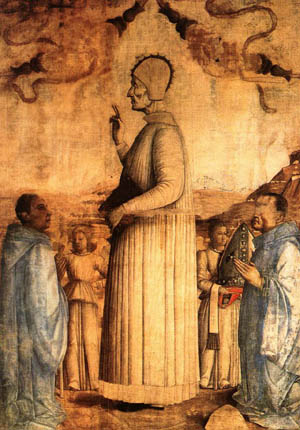 St. Laurence Justinian as Patriarch of Venice

The sentimental way to describe the saints is one-sided and deforms the souls. Such sentimentalism should be avoided, and a good criteria to know when we have an objective description of the saint is to see if the portrayal produces admiration and respect.

Second, while he was very young, he entered an Order that was corrupted, putrid. He was elected its superior and reformed it to the point that he is considered its second founder. That is, it was an Order so rotten that it needed a general reform, and was reborn at the hands of a saint. But it was not so rotten that it would not elect a saint to reform it. Today, what Order elects a saint to reform it?

Third, in 1433, about 100 years before the explosion of Protestantism, the Church was already immersed in the great crisis of the Revolution. The humanist mentality was promoting pride and sensuality everywhere, and preparing the way for the acceptance of the bad ideas of Protestantism. Well, St. Laurence Justinian reformed his Order, and instead of being persecuted and despised, he was named Patriarch of Venice. Once again, you can see a difference between that phase of the Revolution and the point it has reached in our days.

In those times, there was a St. Laurence Justinian as Patriarch of Venice and a St. Charles Borromeo as Archbishop of Milan; today instead there was a Angelo Rocalli in Venice and a John Baptist Montini in Milan. The first two Saints lived their lives in preparation for, or as a consequence of, the Council of Trent. That is to say, they dedicated themselves to help the Church to resist Protestantism. The two progressivist Cardinals (who became Popes) prepared the Church for Vatican Council II, which opened her doors not only to Protestantism but also to all the heresies synthesized in Modernism. At the time of St. Laurence, many people were already revolutionary but they were at least aware of the corruption and chose saints to reform them. In our times, people have lost the notion of good and evil and can actually think that those progressivist Cardinals were good. There is an enormous moral difference between these two steps of the Revolution.

Let us pray to St. Laurence Justinian asking him to give us his seriousness in order to face the Revolution within the Church and to help us to restore her, as he did in his Order and in the Archdiocese of Venice.