Francis Awards Hollywood Pro-aborts
As Catholic parents we would have nothing to do with a school that chose a pro-abortion and same-sex "marriage" activist like George Clooney as an ambassador. Sadly, if we are to maintain integrity, we must now say the same of the Pope's own educational charity.
On Sunday [May 29, 2016], Pope Francis presiding at the pontifical foundation he founded, Scholas Occurrentes, awarded an Olive Medal for Peace to George Clooney, Richard Gere and Salma Hayek at a publicized Vatican event. All three Hollywood celebrities have a history of advocacy against the Church's moral and social teachings.

As Catholics we rightly cringe to speak ill of the pope. But for anyone who has ever lamented the scandal of Catholic institutions honoring or giving a platform to public opponents of Church teaching, there is simply no dismissing the fact that this too is a grave scandal. Advocates of the Catholic cause today cannot ignore the reality of our situation right now. We have to grapple with it.



The awards



The awards were given at the VI World Congress of Scholas Occurrentes, a foundation of pontifical right founded by Pope Francis in 2013. The charity is a network of schools intended to help children socially integrate within their cultures through the use of technology and the arts.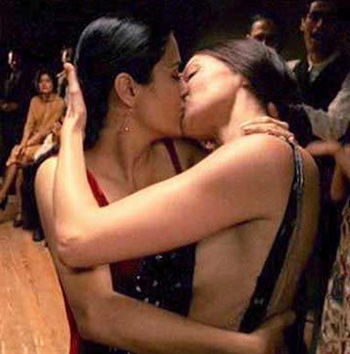 Feminist Salma Hayek plays a lesbian in the movie Frida; she promotes abortion & same-sex 'marriage'
Crux reports that the organization gave the three Hollywood actors the Olive Medal in recognition of their activism against climate change, war and terrorism. According to the Hollywood Reporter, the three will now act as ambassadors for the charity's arts projects.

Unfortunately, all three actors have a history of supporting causes to dismantle the traditional family and morality, including abortion and same-sex "marriage," both in their films and their public advocacy work.

Salma Hayek, born and raised in a Catholic family, has been openly critical of the Church and religion in general. In a 2007 interview with Marie Claire, she explained her choice to leave the Church in this way:

"The minute I started thinking it through, I realized all religions are a form of manipulation. And I started having problems with certain beliefs-like in Africa, where people are dying of AIDS and overpopulation, the Catholic Church is going over to convert them and take away the condoms! And I said, wait a minute ..."

In a 2003 interview with The Advocate, she blamed the Church for attacks on homosexuals. "I disapprove of their lack of acceptance of gay people as equals. ... I am very angry about the way gay people are treated around the world. I think religion has a lot to do with it. I think that God doesn't make any differences – I think that we are all loved by God the same. He has accepted gay people. It's part of creation but it's a lot easier to judge than to learn," she said.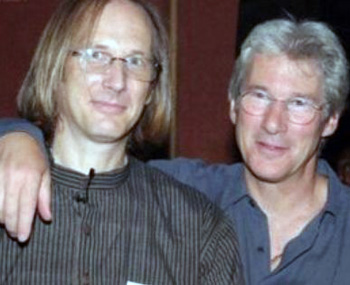 Richard Gere with his homo brother. Gere was one of the first actors to play a homo with nude scenes in Bent
But of the three, Clooney is by far the most active and high profile.

In 2012, he joined other Hollywood A-listers in a play called 8, ridiculing the pro-marriage backers of California's Proposition 8.

Clooney told EOnline in 2008: "At some point in our lifetime, gay marriage won't be an issue, and everyone who stood against this civil right will look as outdated as George Wallace standing on the school steps keeping James Hood from entering the University of Alabama because he was black."

In April, the actor praised the effectiveness of using corporate pressure to muscle States into accepting laws that allow biological men to use women's showers and locker rooms. "When you have IBM and Walmart of all people and General Electric and people like that coming at you, it affects people," he said.

He is also an unapologetic supporter of Planned Parenthood.

At the Vatican event, Clooney praised Scholas Occurrentes, saying that it was "wonderful" to see "so many religions talking about inclusion."

He praised Pope Francis for using the best way to combat "fundamentalist attitudes," namely by focusing on school children. "We have to start with schools, because we know that hatred and fundamentalist attitudes have to be taught. We're not born this way, it's a learned behavior. Pope Francis is focusing on schools, because he knows that this is the only way we're going to fight it," he said during the event.



Undermining the faithful



These awards are deeply concerning no matter what the intention in bestowing them. They may very well have been given in good faith, or even possibly as some sort of misguided faith outreach to the rich and famous. But, frankly, no good intentions can justify the scandal.

We can hope that Pope Francis was ignorant as to the public stances of those he's awarding. But no one will dispute that he has a responsibility to know.

For many years Catholics have fought hard battles to maintain the integrity of our Church institutions by advocating that they refrain from honoring or giving platforms to the Church's enemies. The most high profile instance was obviously in 2009, when Notre Dame University awarded the most pro-abortion U.S. president in history an honorary doctorate and had him deliver their Commencement address.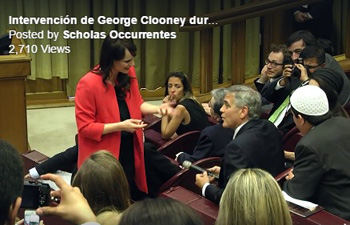 Clooney thanks Francis for combating traditionalist attitudes on the family; watch the video

here.

Over 80 U.S. Bishops rightly raised their voice in a strong protest. In doing so, they universally pointed to a clear statement from the United States Conference of Catholic Bishops' 2004 document Catholics in Political Life: "The Catholic community and Catholic institutions should not honor those who act in defiance of our fundamental moral principles. They should not be given awards, honors or platforms which would suggest support for their actions" (emphasis in original).

This is just straightforward common sense. The Church can't play fast and loose with fundamental moral principles affecting life and death, and the very nature of the human person, at a time when these very principles are under all-out assault and confusion reigns even among her own faithful. The Church has no choice but to give an absolutely clear moral witness, whether or not that means the world makes her out to be intransigent.

By honoring activists like Clooney, Gere and Hayek, Pope Francis is undermining the Catholic faithful's effort to preserve the Faith. He's making our job next to impossible. When the next Commencement scandal erupts, why wouldn't Notre Dame or Georgetown simply point to Pope Francis' own actions to justify theirs?

Of course, we know they will. And then, in the face of that, how effective will it be to point to a sentence from a local Bishops' Conference? Nevertheless, we are called to embrace our suffering in this world we call the "vale of tears," so we will happily press forward despite the immense added challenge, for we have confidence that the truth as proclaimed for two millennia by the Catholic Church is on our side.

The Pope's actions, though, are unfortunately much worse than merely adding extra burdens on the faithful. Vastly worse. For by honoring the enemies of life and the natural family, the Pope is playing a part in the cultural destruction going on all around us. This is truly a scandal of immense proportion – much more damaging than Notre Dame's Obama debacle – because it involves the endorsement of the Vicar of Christ himself.

When Notre Dame chose to honor President Obama in 2009, the local ordinary in Fort Wayne-South Bend, Bishop John D'Arcy, warned that the university may have "chosen prestige over truth." One hopes the same cannot be said here of Pope Francis and Scholas Occurrentes, because losing worldly prestige is simply the price of obeying the Gospel.



This article was first published at LifeSiteNews on June 2, 2016