Signs of the Times....
Sick satanic ritual: Group of friends 'kill pal in cult ceremony to turn him into vampire'
WARNING: Sensitive Material



This blog is LOADED with the latest madness from the godless liberal world we are swimming in
POLICE have arrested three people accused of killing a friend they were trying to turn into a vampire during a satanic ceremony at a cyber cafe called Freak Shop.
Tragic restaurant worker Edwin Juarez Palma, 24, died after being strangled, beaten, and slashed in the neck with a broken bottle.
The horrific crime happened near the regional congress building in Chihuahua in the north of Mexico.
A teenage girl named as 18-year-old student Iveth Lopez is among those being held.

Edwin was killed after being fooled into taking part in an initiation ceremony
This crime took place during an initiation ceremony led by a satanic sect called Sons of Baphomet 1 during which the victim was supposed to become a vampire.
The other two suspects were named as Gustavo Dorantes, 18, and Omar Sanchez, 25.
Police say Edwin, known as Piwa, was killed after being fooled into taking part in an initiation ceremony to become part of a satanic cult called the Sons of Baphomet 1.
Instead he was tortured after having his hands tied behind his back after one of the alleged killers persuaded the others their victim should be sacrificed so he could return to life as a vampire.
Police were alerted last Tuesday after his body was found abandoned in the street wrapped inside two plastic bags in what detectives believe was a botched attempt to pass the murder off as a drugs-related crime.
Officers found traces of the victim's blood inside the cyber cafe, which belongs to the older of the two men being held, after obtaining a search warrant when a protected witness told them how Edwin had been killed.

Three suspects are being held in connection with the murder
The murder reportedly took place inside the toilets late at night and the killers are said to have used bleach to try to clean up the scene of the crime.
A fourth person described as the leader of the sect is on the run from police.
Police announced the arrests yesterday as they revealed details of the horrific crime.
Police chief Pablo Rocha said: "This crime took place during an initiation ceremony led by a satanic sect called Sons of Baphomet 1 during which the victim was supposed to become a vampire.
"All that's left now to do is to arrest the leader of the sect whose name we have."
Edwin's sister Alicia, writing on social media sites after his funeral, said in a message to friends and relatives: "Don't be sad. I know it hurts that he's no longer with us. He's my brother and we are his family and it hurts us more than anyone.



California tries to 'bully' 21 states into accepting LGBT agenda

A California state legislator has introduced a bill that would ban travel by state employees to any state that has a religious-liberty law viewed as "discriminatory" against LGBTs. Assembly Bill 1887 was introduced Feb. 11 by Assemblyman Evan Low, D-Silicon Valley. And that's not all. Low said he introduced a "package" of bills meant to stop state funds from flowing to any person or entity that uses the First Amendment's religious-liberty clause to "discriminate" against the LGBT community.
Another bill in his arsenal is AB 1888, which would cut off student financial aid for private colleges and universities, particularly religious ones, that are not perceived to be LGBT friendly. "AB 1888 would require all institutions receiving CalGrant dollars to certify to the California Student Aid Commission that they do not discriminate on the basis of, among other things, sex, sexual orientation, gender identity, or gender expression," according to a press release on Low's website. These colleges would also be prohibited from seeking a Title IX waiver from the U.S. Department of Education as a condition of receiving state funds. READ MORE

NBC Blatantly Promotes Transgender Propaganda—Again

NBC spent a great amount of time recently promoting the transgender lifestyle for both adults and children. The network's Parminder Deo touted a Pediatrics study that concluded that if kids live openly as transgender with supportive families, they experience no abnormal anxiety and depression. "Support and acceptance" is the key, Deo said.
The study, however, led by Kristina Olson of the University of Washington was conducted using questionable methods. It surveyed 73 kids aged 3 to 12 and simply asked parents whether their kids had shown symptoms of depression or anxiety during the past week. Transgender kids' anxiety score averaged only 0.1 over the national norm on a National Institutes of Health scale. Merely asking parents whether their children have exhibited adverse symptoms is not particularly compelling as a valid test of the benefits of being openly transgender. READ MORE

Public School Students Taught To 'Pledge Allegiance To International Flag'

It is widely accepted that American public schools are controlled by liberals. It seems like every day, we see new examples of American schoolchildren being indoctrinated with left-wing ideas.
This latest example was brought to our attention by a concerned parent.
Kindergarten students from PS75, a public school in New York City, recently took part in a class project in which the children were made to create an American flag with the flags of other 22 other nations superimposed over the stripes. Below the flag read the words "We pledge allegiance to an International Flag."






Say What??
The sex toys of the future: Talking high-tech dolls can be given a personality via an app to create the 'perfect lover'
Florida Man Arrested for Allegedly Tossing Alligator Into Wendy's Drive-Thru Window
A man was arrested Monday for allegedly tossing a live alligator through the drive-thru window of a Wendy's restaurant in Loxahatchee, Florida, according to Palm Beach County officials and the Florida Fish and Wildlife Conservation Commission.
Joshua Douglas James, 23, of Jupiter, Florida, allegedly admitted to officials that he picked up the American alligator on the side of a road and later threw it from his white pickup truck into the Wendy's kitchen after ordering a large soft drink, according to an FWC incident report obtained by ABC News. The alligator was later seized by FWC officers and released into a nearby canal, the report said.
Though the incident happened on Oct. 11, 2015, James was only taken into custody on Monday, according to online booking records for the Palm Beach County Sheriff's Office.
According to an Incident Summary Report, officers were able to identify James as the suspect in the case by tracing information from a bank card he used at a 7-Eleven gas station just before going to the Wendy's. The report said that time stamps from 7-Eleven surveillance footage of James aided in the investigation as well.
James now faces multiple charges, including aggravated assault with a deadly weapon without intent to kill and unlawful possession and transportation of an alligator, according to the FWC incident report and Palm Beach County online court records.
James appeared in court for the first time today, where a judge set his bail at $6,000 and ordered that he stay out of all Wendy's restaurants, according to online court records.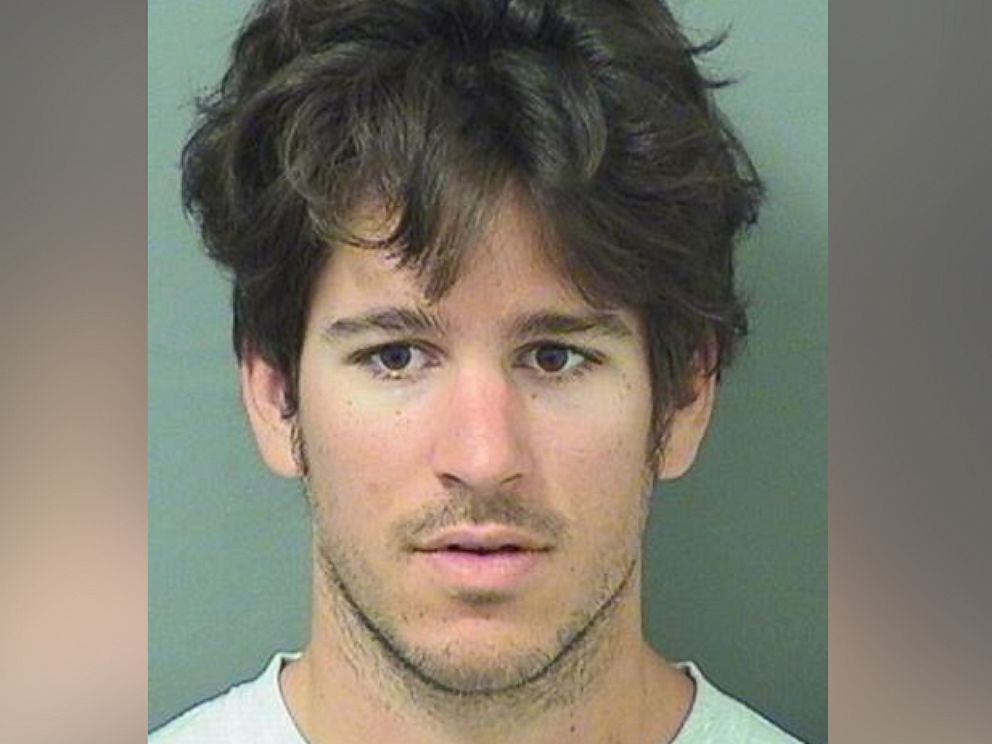 It was not immediately clear if James had met bail or entered a plea to the charges against him, and the Palm Clerk & Comptroller's Office did not immediately respond to ABC News' requests for additional information.
Online court records listed James' attorney as a public defender without specifying a name, and a spokesperson for the Palm Beach County Office of the Public Defender told ABC News today that it was too early to tell which attorney from the office would be assigned to his case.
Though surveillance video from Wendy's of the alligator toss was shared with the FWC, the footage is currently being held by the Palm Beach County State's Attorney Office and will not be publicly released at this time, FWC public information coordinator Rob Klepper told ABC News today.
Wendy's sent the following statement to ABC News today: "This unfortunate incident occurred last year. The safety and security of our restaurant teams is very important to us, and we're glad that no one was injured as a result of what happened."
New NBC Sitcom Suggests Jesus Is a Full-On Homosexual

How far across the line will Antichrist agendas go? Isn't it bad enough to suggest that God is a woman and that Jesus is a transgender? I'd expect that from the gay lobby that's working to influence the culture through media and entertainment. But when NBC gets on board with this blasphemy, it surprises even me.
NBC is propagating a false—homosexual—Jesus in its freshman show Superstore. This is no small offense—and it's not accidental. No, Justin Spitzer, who serves as writer and executive producer, appears to be blatantly smearing Christ and angering many of His followers. In Superstore, "America Ferrera (Ugly Betty) and Ben Feldman (Mad Men, A to Z) star in a hilarious workplace comedy (from the producer of The Office) about a unique family of employees at a supersized megastore," NBC reports. READ MORE


San Francisco School Board OKs Condoms for Middle-Schoolers

A big controversy is brewing in San Francisco after the city's school board unanimously approved a proposal to give middle school students – ages 11 to 14 – access to condoms without parental approval. The decision has divided parents, some of whom say that schools should indeed reinforce the importance of safe sex while others say that should be left up to parents.
On "Outnumbered" today, Andrea Tantaros said that middle school is simply too early to give children access to condoms. She said the school should instead focus on education, and let parents make the decisions regarding reproductive health. Harris Faulkner said she's OK with making condoms accessible to students who may already be sexually active, but she believes a parental permission slip should be a requirement. READ MORE

Stay tuned for the next installment of "Signs of the Times"
Judge Judy is not impressed