Earth Changes:

Pond turns white as tens of thousands of fish die overnight in China
Latest apocalyptic earth changes news within!
Tens of thousands of mandarin fish died overnight in China.
Fishermen are baffled. The cause of this new mass death is under investigation but remains unknown.
Acording to
Shuichan
, Mr. Chen and several friends contracted four fish ponds. On May 18, a vigil workers reported fish behaving abnormaly in one of the pond. The next day already, the pond had turned white following the mass death of all fish.
It is still unknown how fish have died, but acording to first investigations, the fish died strangely. If the cause of the death is low oxygen, the fish wouldn't have jumped like crazy out of the water. Such weird behavior is normally observed during poisoning.
It is also weird that the fish only died in a pond and not in all ponds. In early April this year, the fish ponds had been disinfected. The water drained downstream to another fisherman's pond. Surprisingly, after the drainage, 2000 pounds of silver carp died in the downstream fish pond.
Since then, the ponds aren't linked to each other anymore. But did the owner of the downstream pond poisoned that of Mr. Chen? Chemical investigations are underway. Meanwhile, Mr. Chen lost more 100,000$.
Gigantic sinkhole swallows man alive after cesspool collapse in Huntington, Long Island
A man is dead after a cesspool collapsed in the Long Island town of Huntington on May 24, 2017, spawning a gigantic sinkhole that swallowed him alive.
Crews were still filling in the massive sinkhole on Wednesday night after a frantic rescue effort involving dozens of firefighters, police officers and workers failed to save the man.
Sinkhole Swallows Man in Huntington[NY] Sinkhole Swallows Man in Huntington
Emergency services were frantically searching for a man who was swallowed by a sinkhole on Long Island Wednesday.
Police say a crew was installing the cesspool at a Beech Place home when it collapsed shortly before 1 p.m., leaving a gaping hole that consumed the entire front yard and ate the top half of the driveway.
The worker was sucked in. Another worker nearly suffered the same fate but managed to grab ahold of construction equipment as Sinnott was pulled down.
Chopper 4 showed an extensive emergency presence at the scene. A large crane was sifting through mud and other debris. Later, crews brought in a device to suck muck out of the hole.
Like bullets falling from the sky: Apocalyptical hailstorms hit Mexico and Turkey
A few days after the furious storms and tornado that closed down customs in Nuevo Laredo, Mexico, this fierce hailstorm hit the North Territory of Baja California – again close to the boarder with the USA – on May 24, 2017. The sound of these huge hailstones falling like bullets from the sky is so terrifying:
WATCH HERE:
NOAA predicts above normal hurricane season…
The nation's climate agency Thursday predicted an above-normal 2017 hurricane season with 11 to 17 named storms, five to nine of them hurricanes and two to four Category 3 or higher hurricanes. The
National Oceanic and Atmospheric
Administration
predicted a 45 percent chance
of the hurricane season that begins June 1 being above normal, a 35 percent chance of a normal season and a 20 percent chance of a below normal season. An average season is 12 named storms, six hurricanes and 3 major hurricanes. "The outlook reflects our expectation of a weak or non-existent El Nino,
READ MORE
Magnitude 5.4 Earthquake shakes parts of Luzon
A tectonic
earthquake
of magnitude 5.4 struck 12 kilometers northeast of San Marcelino in Zambales at 10:27 p.m. on Thursday, according to the Philippine Institute of Volcanology and Seismology (Phivolcs). The tremor, which Phivolcs recorded at a depth of 88 km. and earlier recorded as magnitude-5.5, was felt in
parts
of Metro Manila, Bulacan, Cavite,
Pampanga, Bataan, and Benguet. The quake was felt for at least 6 seconds in Makati, where the Inquirer office is located. According to Tom Simborio, Phivolcs science research assistant, who was interviewed over radio station DZMM, the quake was felt at the following intensities:
READ MORE
Apocalyptical wildfire burns down hundreds of homes in Siberia – State of emergency declared
Three people have been killed and hundred of homes burned down as Russia declares a state of emergency in the Krasnoyarsk region after an apocalyptical inferno engulfed Siberia on May 24, 2017.
More than 340 people are now homeless, among others 47 children. State of emergency has been declared.
Mainly two cities have been severely affected: Lesosibirsk and Kansk.
The uncontrollable fire killed two people in Kansk and more than 40 houses burned down.
Another one died in one of the horticultural cooperatives in the city of
Bratsk
.
In Lesosibirsk, more than 40 homes burned down and the threat of the spread of fire is maintained.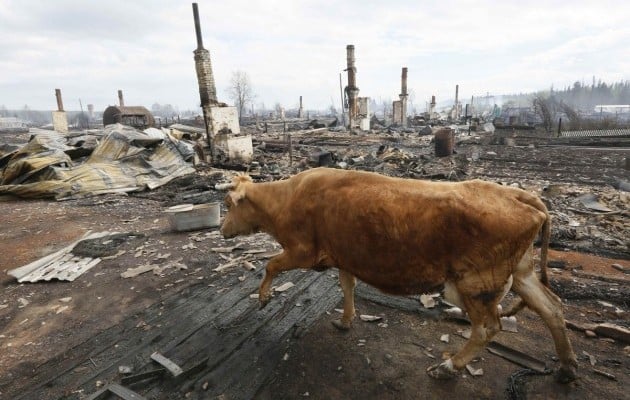 State of emergency has been declared in both cities.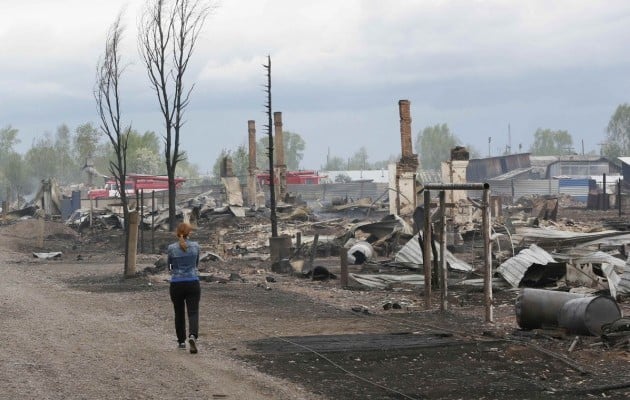 In overall more than 171 houses have burned down during this intense blaze. Have a prayer for them!