Europe In Turmoil & Something Strange Is Taking Place In The Mediterranean
Italian PM Matteo Renzi to resign after heavy referendum defeat
Italian Prime Minister Matteo Renzi is resigning after losing a key referendum on constitutional reform.
The result plunges the country into political turmoil, but with the European Union already reeling from multiple crises and struggling to overcome anti-establishment forces, many sought to downplay the broader significance of the vote.
EU finance commissioner Pierre Moscovici told reporters in Brussels that he has "full confidence in Italian authorities to manage this situation".
He added: "I'm very confident in the capacity of the eurozone to resist all kind of shocks."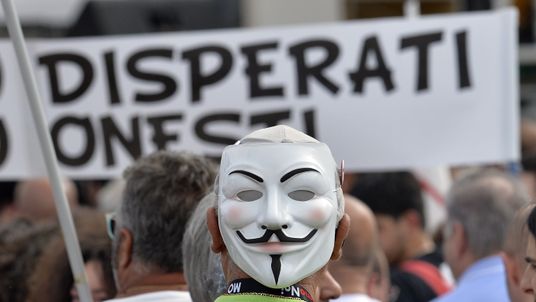 He also said investors should be relaxed about the Italian referendum, which was a domestic issue, and said he saw no grounds for there to be a crisis for the euro currency.
"I think we should see the situation in Italy with a certain calmness," he said, adding: "I think there is no need to talk about a euro crisis."
German foreign minister Frank-Walter Steinmeier, however, said that while the result was "not the end of the world", it was also "not a positive development in the case of the general crisis in Europe".
He said he was watching the developments "with concern".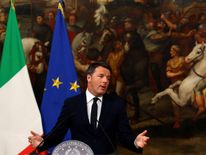 The markets seemed initially to take Mr Renzi's departure in their stride and appeared to bet against snap elections.
:: Euro falls to 20-month low after Italy vote
Stocks and the euro fell in early trading but there were no signs of panic with the possibility of his resignation having already been largely factored in.
Some analysts fear a deeper crisis of investor confidence could derail a rescue scheme for Italy's most indebted banks, triggering a wider financial crisis across the eurozone.
:: Italy referendum result could hit country's fragile banks
Mr Renzi, the head of the centre-left Democratic Party, had staked his future on the constitutional reform, which was aimed at streamlining Italy's notoriously lengthy legislative process by weakening the powers of the upper house, cut down the number of senators and cut the powers of regional authorities.
His opponents denounced the reforms as dangerous for democracy and saw a chance to topple his government after almost three years.
Mr Renzi, who came to power in 2014, said he took full responsibility for the "extraordinarily clear" defeat, with the final count showing the "No" camp winning 59.1% to 40.9%.
"The experience of my government ends here," Mr Renzi said in a televised address to the nation.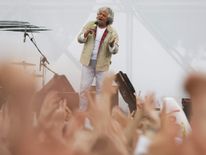 Spearheaded by the populist Five Star Movement, the biggest rival to Mr Renzi's Democratic Party, the "No" campaign took advantage of the Mr Renzi's declining popularity, a struggling economy and concerns caused by tens of thousands of migrants arriving from Africa.
The vote is a major win for Five Star leader Beppe Grillo, who called the result a "victory for democracy".
Mr Renzi will convene his cabinet for the last time on Monday afternoon and then hand in his resignation to President Sergio Mattarella, who is now charged with brokering the appointment of a new government, or if that fails, calling early elections.
Mr Grillo said an election should be called "within a week" on the basis of a recently adopted electoral law which is designed to ensure the leading party has parliamentary majority.
Italy PM Renzi says he will resign following referendum defeat
ROME (Reuters) - Italian Prime Minister Matteo Renzi said he would resign following a stinging defeat on Sunday in a referendum over his proposals for constitutional reform.
"The experience of my government ends here," Renzi said in a televised address to the nation after early voting results suggested his 'Yes' camp may have lost the referendum by as much as 20 points.
Renzi said he took full responsibility for the "extraordinarily clear" defeat and that on Monday afternoon he would convene his cabinet and then hand in his resignation to President Sergio Mattarella.
Renzi facing exit as polls point to Italy referendum defeat
Rome (AFP) - Matteo Renzi's time as Italy's prime minister appeared to be over Sunday as exit polls indicated voters had overwhelmingly rejected constitutional reform proposals on which he had staked his future.
The reformist premier had vowed to quit if he lost the vote on proposals to streamline parliament and the first exit polls indicated he had been left with little other option.
Polls for national broadcaster Rai and the La7 television channel both called the vote decisively for the No camp. Their surveys put the winning margin at an average of 56.7 percent to 43.3.
Almost 70 percent of the electorate turned out to vote, first reports from polling stations indicated, underlining the stakes after Renzi's resignation pledge turned the vote into a de facto referendum on his leadership and record.
The projected result was in line with what opinion polls had been indicating up until November 18, after which the media were banned from publishing survey results.
Renzi was due to make a statement at his Palazzo Chigi official residence around midnight, aides had said prior to the polls closing.
The defeat and Renzi's likely departure will plunge Italy in a new phase of political uncertainty and possible economic turmoil.
Presuming Renzi does step down, President Sergio Mattarella will be charged with brokering the appointment of a new government to run Italy until the next general election, which has to take place by the spring of 2018.
- Call for early elections -
The main opposition parties went into the vote insisting that there should be early elections if the proposals -- curtailing the size and powers of Italy's Senate and transferring powers from regions to the national government -- were defeated.
Renzi had gone the final weekend of the campaign insisting he could still win voters around.
And during the day his hopes were raised as turnout in the prosperous north of the country far exceeded that in the south -- a pattern which was seen as a potential boost to the premier's survival hopes.
But it appeared in the end that voters on both sides were equally energised, leaving the balance of forces much as it had been at the start of the campaign.
Opposition parties denounced the proposed amendments to the 68-year-old constitution as dangerous for democracy because they would have removed important checks and balances on executive power.
Spearheaded by the populist Five Star Movement, the biggest rival to Renzi's Democratic party, the "No" campaign also capitalised on Renzi's declining popularity, a sluggish economy and the problems caused by tens of thousands of migrants arriving in Italy from Africa.
Matteo Salvini, leader of the far-right Northern League said Renzi should resign immediately and called for early elections.
"God willing it's over. A new era starts tomorrow I hope," he had said earlier in the day.
- Populist victory -
The No vote represents a major victory for Five Star leader Beppe Grillo, who had urged Italians to follow their gut instincts.
But Renzi's backers believed they were voting for overdue change.
Outside a polling station in Rome, business owner Raffaele Pasquini, 37, told AFP he had voted "Yes" in the interest of his two-year-old son.
"We are voting to try and change a country that has been stalled for far too long," he said.
Some short-term market turbulence looks inevitable in the wake of the vote.
And some analysts fear a deeper crisis of investor confidence that could derail a rescue scheme for Italy's most indebted banks, triggering a wider financial crisis across the eurozone.
After the Brexit vote and Donald Trump's victory in the US presidential election, the No vote is likely to be interpreted as another victory for populist forces and a potential stepping stone to government for Grillo's Five Star.
But the campaign was not just about popular discontent with the state of Italy. Many Italians of a similar political bent to Renzi had deep reservations about the proposed changes to the constitution.
Under the proposals, the second-chamber Senate, currently a body of 315 directly-elected and five lifetime lawmakers, would have been reduced to only 100 members, mostly nominated by the regions.
The chamber would also have been stripped of most of its powers to block and revise legislation, and to unseat governments.
Something Strange Is Taking Place In The Mediterranean
NGOs are smuggling immigrants into Europe on an industrial scale
For two months, using marinetraffic.com,
we have been monitoring the movements of ships owned by a couple of NGOs, and, using data from data.unhcr.org.
We have kept track of the daily arrivals of African immigrants in Italy. It turned out we were witness of a big scam and an illegal human traffic operation.
NGOs, smugglers, the mafia in cahoots with the European Union have shipped thousands of illegals into Europe under the pretext of rescuing people, assisted by the Italian coast guard which coordinated their activities.
Human traffickers contact the Italian coast guard in advance to receive support and to pick up their dubious cargo. NGO ships are directed to the "rescue spot" even as those to be rescued are still in Libya. The 15 ships that we observed are owned or leased by NGOs have regularly been seen to leave their Italian ports, head south, stop short of reaching the Libyan coast, pick up their human cargo, and take course back 260 miles to Italy even though the port of Zarzis in Tunis is just 60 mile away from the rescue spot.
The organizations in question are:
MOAS, Jugend Rettet, Stichting Bootvluchting, Médecins Sans Frontières, Save the Children, Proactiva Open Arms, Sea-Watch.org, Sea-Eye and Life Boat.
The real intention of the people behind the NGOs is not clear. Their motive can be money, we would not be surprised if it turned out to be so. They may also be politically driven; the activities of the Malta-based organisation, MOAS, by trafficking people to Italy is the best guarantee that migrants will not show up on the Maltese shore. MOAS is managed by an Maltese Marine officer well known in Malta for his maltreatment of refugees
1)
. It is also possible that these organisations are managed by naive "do-gooders" who do not understand that offering their services they are acting like a magnet to the people from Africa and thus they are willy-nilly causing more fatalities, not to mention that their actions are destabilizing Europe.
How high-minded the intentions of these organisations might be, their actions are criminal as most of these migrants are not eligible for being granted asylum and will end up on the streets of Rome or Paris and undermine Europe stability raising racially motivated social tensions.
Brussels has created particular legislature to protect people traffickers against prosecution. In a dedicated section of an EU resolution entitled On Search and Rescue, the text states that "private ship masters and non-governmental organisations who assist in sea rescues in the Mediterranean Sea should not risk punishment for providing such assistance."
2)
During the two months of our observation, we have monitored at least 39,000 Africans illegally smuggled into Italy, which was done with the full consent of the Italian and European authorities.
* * *
Ships permanently used by NGOs off the Libyan coast
| | |
| --- | --- |
| | The Phoenix is one of the two MOAS vessels. The ship is regularly spotted in the territorial waters of Libya. It is registered in Belize, South America. However, the ship is owned and operated by the Maltese to bring the immigrants to Italia. Website: MOAS |
| | The Topaz Responder, a 51-meter custom-made emergency response vessel, which hosts two high-speed rescue launches. The ship is managed in combination with MSF. This is one of the three ferries that can transport hundreds of people at one go. The ship is registered at the Marshall Islands. Website: MOAS |
| | Iuventa is registered under the flag of the Netherlands and owned by the German NGO Jugend Rettet. Website: Jugend Rettet. |
| | The Golfo Azzurro is used by the Dutch 'Boat Refugee Foundation'. Golfo Azzurro operates under the Panama flag. The Boat Refugee Foundation charters the vessel for a symbolic price. Website: Bootvluchteling. |
| | Dignity 1 is registered under the flag of Panama. We believe the ship belongs to Médecins Sans Frontières. Website: MSF. |
| | The Bourbon Argos, a ship of Médecins Sans Frontières. It is one of the three ships used to ferry people from the smaller vessels to Italy. The vessel is currently registered under the flag of Luxembourg. MSF. |
| | The Aquarius is one of the many ships managed by Médecins Sans Frontières. It is registered under the flag of Gibraltar. Website: MSF. |
| | The Vos Hestia search and rescue ship, chartered by the charity Save The Children, like many of the NGO vessels it is under the supervision of the Italian Coast Guard Website: Save the Children. |
| | Proactiva Open Arms operates the Astral. We spotted the Astral many times in Libyan territorial waters. The ship disappeared on a regular basis from the AIS tracking websites. Website: Proactiva Open Arms. |
| | The MS Sea-Watch I is owned by a Berlin-based organisation. It works closely with Watch The Med, a transnational network of people that fight against the European border regime, and demand a free and safe passage to Europe. Website: Sea-Watch. |
| | The MS Sea-Watch II is owned by a Berlin-based organisation. It works closely with Watch The Med a transnational network of people that fight against the European border regime, and they demand a free and safe passage to Europe. Website: Sea-Watch. |
| | The Audur is registered under the Netherlands' flag. We do not know to whom this ship belongs. |
| | The MS Sea-Eye is owned by Sea-Eye-eV. Michael Buschheuer from Regensburg, Germany, and a group of family and friends founded the non-profit sea rescue organisation Sea-Eye e.V. Website: Sea-Eye. |
| | The Speedy is a speedboat owned by Sea-Eye-eV. The ship is confiscated by the Libyan government. Website: Sea-Eye. |
| | Minden is owned by the German organisation LifeBoat. The vessel is currently registered under the flag of Germany. Website: Lifeboat. |
More information:
In October we discovered that four NGOs picked up people in the Libyan territorial waters. We have proof that these smugglers communicated their action in advance with the Italian authorities. Ten hours before the immigrants left Libya, the Italian coast guard directed the NGOs to the "rescue" spot: Full account "Caught in the act: NGOs deal in migrant smuggling"
The MOAS organisation has close links with the famous US military contractor "Blackwater", the US army and the Maltese navy. Full account: "The Americans from MOAS ferry migrants to Europe"
There is a full account about the ships involved: "NGOs Armada operating off the coast of Libya"and how people are encourage to come to Europe: "Death road to Europe promoted on the web"