Inspirational: Best of the Good News
(May 8th 2016)
Tired of all the negative news?
Young man with Down syndrome becomes youngest business owner in his town
Blake will be the youngest business owner in his town of Sanger, Texas, his mom said, and the only one with Down syndrome. His journey to become a business owner started shortly after he graduated high school. Blake loved his job working at a barbecue restaurant, but it closed one month after his senior year ended.

"He deeply missed his customers. He wanted a job," she said. "In our small town, jobs are limited, especially for people with special needs."

So the Pyrons began researching ways that Blake could create his own job by starting a business. Blake's interests and their research kept bringing them back to one idea: snow cones.

After word got out that Blake was opening a snow cone shack, members of the community rallied behind the budding business, his mom said. Blake's brother helped out by crafting up the shack's creative flavor options like "Shark Attack" and "Hulk," and they hired a 15-year-old family friend, Tanner Maples, to be one of Blake's employees. As for Blake, his main role will be customer service, which his mom called his strength.
Blake is where he is today because his family didn't listen to naysayers, his mom said.

"We were told Blake wouldn't be able to do things, and we looked past that," she said. "You don't know us. You don't know our child, so don't label him. We haven't, and he turned out great."

It's no accident that the grand opening will be shortly before Mother's Day, Blake's mom explained, as it will also celebrate the moms in the community. She hopes her story inspires mothers of other children with special needs to never place limits on what their children can do.

"I want to personally challenge moms to believe in their child," she said, "no matter what society tells you."
Teen carrying disabled brother finishes 111-mile walk

LANSING, Mich. - A 16-year-old boy and his disabled younger brother finished a 111-mile walk Monday, reaching the steps of the Michigan Capitol after the teen carried his sibling on his back for all but the last half-mile.
It was the third and longest journey for
Hunter Gandee
and 9-year-old Braden Gandee, who has cerebral palsy. They set out from Monroe County last Wednesday to inspire people to embrace anyone with a disability.
"Not just cerebral palsy - all disabilities," Hunter told The Associated Press.
Surrounded by family, Braden walked the last half-mile to the Capitol with a walker. Hunter says Lt. Gov. Brian Calley and others greeted them.
"It's hard to take just one moment," Hunter said when asked to describe a highlight. "A lot of memories were created. To see Braden get to the steps of the Capitol building was just amazing."
It wasn't their first trek. Hunter was 14 in 2014 when
he carried Braden for 40 miles
. Last year, they made a 57-mile walk.
Hunter is a student at Bedford High School in Temperance. Two years ago, he held Braden in his arms on the mound at Comerica Park as Braden tossed the ceremonial first pitch at a Detroit Tigers game.
Braden typically uses a walker, braces or a power chair to get around.
"Whenever I'm going through something that's difficult and doing something that's hard, I see him and how he worked through it, and it just kind of pushes me through," Hunter told
CBS
News in 2014.
Hunter, a 155-pound wrestler, said he trained for the trek by lifting weights and staying active. And by checking the weather forecast.
Mustached Cop Gives Rescued Kitten New Forever Home With His 7 Other Pets
Florida Man Helps Homeless Woman Learn How to Read
A Florida man who was moved by a homeless woman who never asked him for money, even though he passed her every day on his way to work, said he finally found a way to help her only after she "dropped a bomb" on him – she never learned to read.
Greg Smith wrote in a now viral Facebook post that a woman who introduced herself as "Amy Jo" offered him polite greetings instead of requests for money as he went by her daily on his way to work in downtown Orlando. It led to the two having lunch every Tuesday.
"For 30 min to an hour I get to hear how positive she is even though she really has nothing," he wrote.
During one of those sitdowns, Smith, 25, wrote that his new friend "dropped a bomb on me."
"She cannot read. Amy Jo does not smoke, drink, have a
drug addiction
, or anything to that nature," he explained. "She simply just has never had anyone teach her how to read.
"She began to tell me any money that she can collect she uses to check out library books that help with learning to read instead of buying FOOD," Smith continued. "So now not only do Amy Jo and I sit and have lunch, I'm teaching her to read. I rent one library book a week and we read it together Tuesday and she practices on her own throughout the rest of the week."
Smith told ABC News that Amy Jo was ecstatic about their weekly reading date.
"She lit up! I could see in her face that she felt amazing," he said.
The sales account executive said he shared Amy Jo's story not to brag, but to inspire others to be kind.
And thanks to the large response, Smith started a GoFundMe page to raise money for a new foundation he said he plans to start to benefit the homeless in his community. He's dubbed it the Amy Jo Foundation. As of Saturday, he's raised a little more than $1,000 and has already met with a lawyer to develop the organization, he said. He has even decided on his slogan: "One person at a time."
"I want to be able to help anybody, whether it be giving them some food or clothes," Smith said. "I don't want to just narrow it down to helping people read because there's so many other people that need more help."
And how does Amy Jo feel about what she's started?
Smith said he told her that their story went viral Friday.
"She thought it was amazing," he added. "She said, 'I can't wait!'"
Georgia waiter feeds man with no hands
(CNN)A photo shared hundreds of times on social media is reminding people there is still kindness in the world.
Alex Ruiz, 22, a server at
Cinco de Mayo
restaurant in Douglasville, Georgia, went above and beyond his job — to feed a man without hands.
"I saw a man who needed help," Ruiz said. "I did what I thought was right."
The customer, whom Ruiz had not seen before, came into the restaurant Sunday to order a meal and asked someone to help him. Without a second thought, Ruiz obliged, making small talk with the man -- asking about his life, his family, and if he needed a ride home.
"It makes me very happy to help people," Ruiz said.
Reginald Widener, a Douglasville resident who eats at Cinco de Mayo nearly every day, saw what happened, took a picture and posted it to Facebook.
"This seriously hit me right in the soul," Widener's post said.
From the picture, it t looks like Ruiz and the customer have known each other for years, completely at ease in each other's company.
Though Widener was touched by the scene, he wasn't surprised.
"I talk to him almost every day," Widener said of Ruiz. "He is always in a positive mood, always smiling."
Ruiz is relatively new to Georgia, moving from Chicago six months ago. He has a son, and he said he hopes to teach him what it means to be "loving."
Teen Invents New Sleeping Bag to Keep the Homeless Warm, and Put Them to Work
"Sometimes you just look at something and wonder, 'Could this be better?'"
That was teen Emily Duffy's question when she started thinking about the living conditions of the homeless.
After researching the issue, then at age 15, the Irish schoolgirl in Limerick decided to create a high-tech sleeping bag for the homeless.
A year after she first thought of the idea, the bag is now being made by homeless men in Dublin, in a workshop designed to help them get back into the workforce.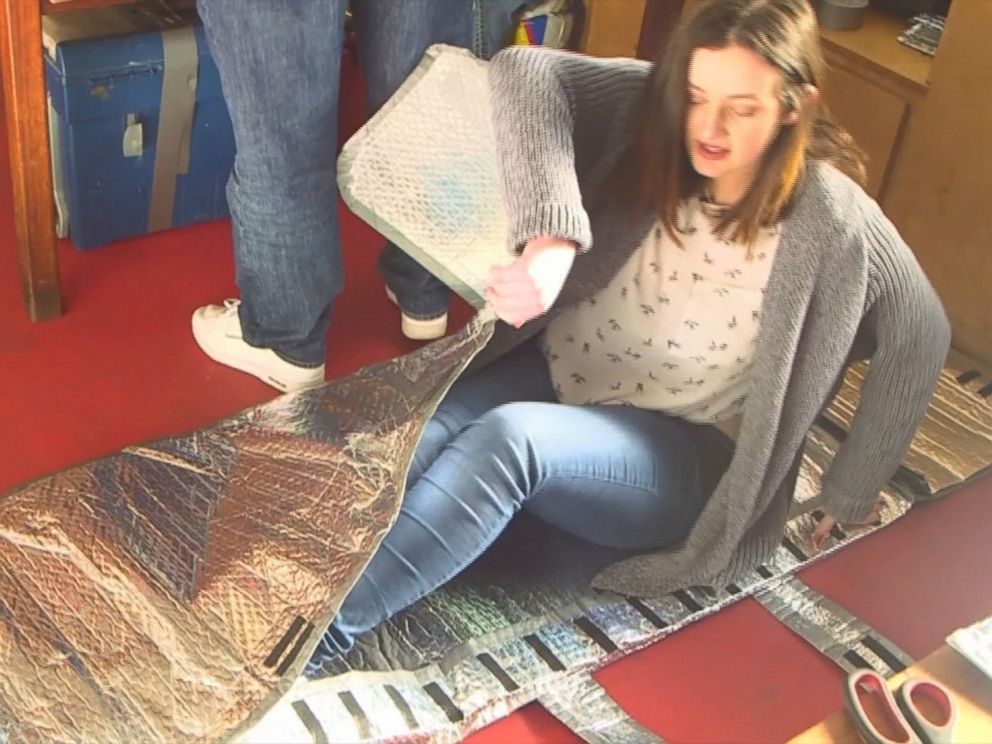 It all started Jan. 9, 2015, when Duffy entered the Irish "BT Young Scientist and Technology Exhibition." There, she presented a waterproof, fireproof sleeping bag and was noticed by the Mendicity Institution, a homeless charity in Dublin.
Mendicity manager Charles Richards offered her a deal: They would set up a workshop where service users would learn how to make their own sleeping bags and get paid for it.
"I knew straight away that there was going to be a use for my product and it would become something more that I could even imagine," Duffy told ABC News. "They tested them out, made a few modifications to fit what they wanted and that's how the Duffily bag came to be."
The sleeping bags, now called Duffily Bags, are being distributed at the Merchants Quay Night Café in Dublin and several were sent for migrants and refugees in Calais, northern France.
The bag itself has been through a series of changes. The metallic bubble wrap was a perfect find, Duffy, now 16, said. "It was water resistant, non-flammable and it also retained heat because it's used as an insulator," she added.
The Mendicity, primarily a food center, expanded its activities with the aim of introducing homeless people to the value of work. The sleeping bag workshop runs twice a week and is meant for long-term homeless who have no entitlements in
Ireland
.
"It's providing them with a sense of achievement, of pride, for a product that they actually take from start and they actually see it finished," workshop manager Simona Sav told ABC News.
"Sometimes they take on the role of helping the newer people training them so that helps them become responsible and stay sober," Sav said.
They are paid 20 euros (about $22.50) per session.
They have already had success stories, Sav said, with former participants now with part-time or full time employment, but also with current participants making improvements and gaining in confidence and well-being.
Mendicity is recruiting for a service user who could work as a workshop manager. They would also like to increase the number of participants, currently at four, and maybe even start looking at other products to make from scratch.
Duffy, still in school, works closely with The Mendicity staff but she has also moved on to other projects.
"I think she was born that way," her mother, Margaret Duffy, told ABC News. "That's been her attitude to life: need to do something, figure it out, do it and move on."
High School Students Host 'Senior' Prom for Elderly Residents at Nursing Home
A group of senior citizens in Florida are proving you're never to old to cut a rug.
Thanks to the high school students of the TERRA Environmental Research Institute, the elderly residents of The Palace Nursing & Rehab Center got a second chance to celebrate their glory days with their very own "senior" prom.
"It was unbelievable," said Debbie Horvitz, the activities director at the
nursing home
. "We had such a great time. We had a tie for [prom] queen and we had a king. One of the queens and kings were holding hands for the rest of the prom. The kids did a great job."
On April 21, the TERRA Environmental Research Institute student government hosted the prom for 75 seniors ages 80 to 101, along with their families.
Among the prom attendees was Eleanor Bessin, 101, the oldest person at the nursing home, who still carries the photo of her original prom date.
"She attended the prom with a boy she thought he was going to marry," Horvitz said of Bessin. "He developed cancer and died a short time after the war. She's had some heartache but [was] looking forward to [the prom]. She's very outgoing."
The prom included music and dancing, food, flowers and prom portraits.
The school's principal, Caridad Montano, said the student government came up with a the idea for an event at the nursing home after they were discussing their own dance.
Community unites to give dying girl a prom with grandpa
Russian Teen Born Without Fingers Now a Celebrated Piano Player Anyway (Video)
Alexey Romanov is inspiring the world one melody at a time by showing that the only thing he needs to play the piano is – not even fingers – but heart.
Born with a debilitating
illness
that robbed him of his fingers, the 16-year-old prodigy fell in love with Mozart and Vivaldi after being adopted two years ago and started learning to play the piano. Alexey's two friends are credited with teaching him to read sheet
music
and identify keys.
Thanks to his performance in February with the respected La Primavera chamber orchestra from Kazan, Alexey was invited to join a music
school
in the Tatarstan capital.
WATCH
:
Disabled Veteran Converts Wheelchair into Snow Plow to Help Town
Because the school specializes in teaching children with disabilities, the young
Russian
pianist has been thriving. His
performance
on national
television
has earned him praise and recognition from fans worldwide, saying he is an inspiration to them all.