Earth Changes: Over 250 Quakes strike Iceland Volcano, Major Eruption May Be Imminent
The latest earth changes and fireball reports
Iceland may very well be about to see a major eruption soon as reports indicate the last 24 hours
has seen
a large seismic swarm of more than 250 earthquakes rattling Herdubreid volcano in Iceland. According to sources, A Magnitude 3.3 earthquake struck under Mount Herdubreid this morning. This particular area has a rich history of active volcanoes and the last major eruption reported from this region was Bardabunga fissures, lasting about six months and leaving a new lava field known as Holuhraun as a result.
The Icelandic Met Office has reported no volcanic tremors thus far. However, the area is continually being monitored. The swarm began roughly around midnight producing over 250 tremors and is continuing to take place in the area around Mount Herdubreid. Sources indicate that most of them measure between M1 and M2 magnitude and are very shallow – 2 and 5 km. But the biggest quake – measuring 3.3 on the Richter scale – hit approximately 5 km under of the mountain.
Heaviest snowfall in 30 years engulfs China
An anomalous once-in-three decades snowstorm has brought between 0.85 and 1 meter snow to the Kizilsu Kirghiz Autonomous Prefecture in northwest China's Xinjiang Uygur Autonomous Region this week.
In all, over 60,000 heads of sheep and horses are threatened by acute fodder shortage, while 425 heads of animals have already died due to snow collapsed sheep pens.
This heaviest snowfall in thirty years has caused difficulties with feeding the sheep herds apart from affecting local traffic.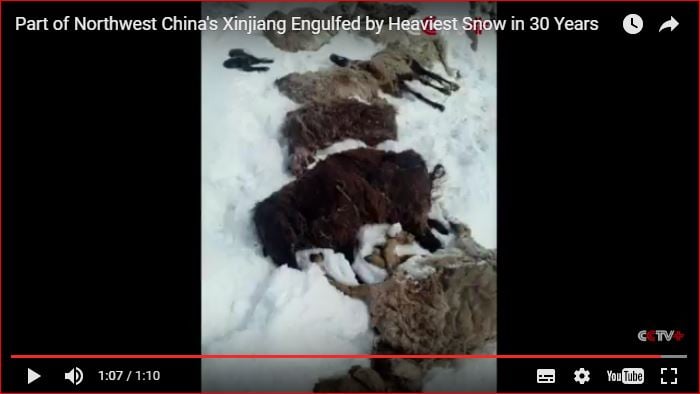 In response to this rare climatic anomaly, local authorities have mobilized heavy-duty machineries to clear the snow to reconnect traffic. The first shipment of 775 tons of fodder has already reached snow-affected pastures.
15 new volcanoes are erupting around the world right now
Here are the following eruptions and ash emissions as mentioned in the weekly report by GVP dated 8-14 March 2017.
Sinabung, Indonesia:
8-14 March.
Sheveluch, Kamchatka Peninsula:
5th and 8-9 March.
Sabancaya, Peru:
8-14 March.
Popocatepetl, Mexico:
8-11 March.
Nevados de Chillan, Chile:
7th and 11th March.
Kilauea, Hawaii:
lava flows during 8-14 March.
Fuego, Guatemala:
9-14 March.
Ebeko, Kurile Islands:
3-10 March.
Dukono, Indonesia:
8th and 10-14 March.
Colima, Mexico:
3-9 March.
Bogoslof, Aleutian Islands:
7th and 13th March.
Bezymianny, Kamchatka Peninsula:
9th March.
Bagana, Papua New Guinea:
14th March.
Kliuchevskoi, Kamchatka Peninsula:
8th March.
Ebulobo, Indonesia:
12th March.
Man swallowed by sinkhole at bus station (video)
This man sank into the ground, when a deep sinkhole suddenly opened up under his feet at a bus station .
Just another normal day in the Russian city of Yaroslavl
Huge blast and bright flash of light in the sky cause fear and panic in Pakistan
Residents of Gilgit and Ghizer Districts in Pakistan ran into fear after they experienced a huge blast and a bright flash of light in their sky.
The blast was so strong that some of the citizens feared a plane crash or even a bomb explosion after the recent string of attacks.
Officials have now confirmed that the explosion and flashes were caused by a huge meteor crossing the sky over the Ghizer and Gilgit District. There are unconfirmed reports that the meteorite may have fallen in a remote area somewhere between the Yasin and Gupis Tehsils of Ghizer District.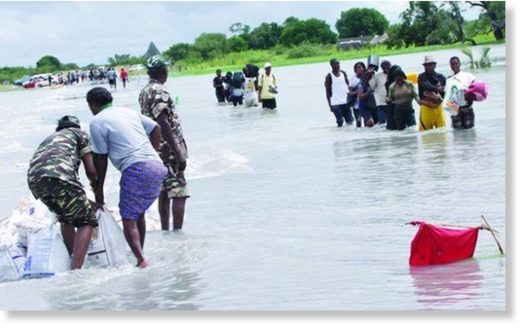 The flood situation in the Cuvelai catchment area has reached alarming levels and residents are being warned to take necessary precautions, in expectation of the worst possible flooding experienced here in living memory.
Over 70 people have so far drowned in Oshana, Omusati and Ohangwena regions in Namibia because of heavy downpours.

Over 60 schools in Omusati Region are also reported to have shut their doors, while about some 120 families consisting of 562 individuals have been displaced
at Oshakati and temporarily relocated to Ekuku.
Heavy rainfall is forecast for the areas within the Cuvelai Basin, including Omusati, Oshana, Ohangwena, Kunene, Kavango East and West and the Zambezi regions and residents of those areas are advised to be on high alert for possible flooding.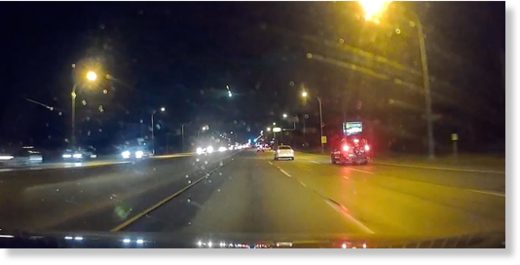 A fireball was sighted speeding across the skies of the Metro Vancouver area late on March 16.
This footage, filmed by Tammy Kwan, a staff writer for Vancouver weekly newspaper
The Georgia Straight
, shows the bright ball visible above a stretch of Lougheed Highway in Pitt Meadows, British Columbia. In her
writeup for The Georgia Straight,
Kwan wrote that she had captured the video on her dashcam, and the sky "suddenly flashed green and then pale yellow."
Deadly Rains, Flooding and Mudslides Leave 72 Dead in Peru
A deadly culmination of weather events in Peru has left at least 72
reportedly
dead. According to reports, The intense rains, overflowing rivers, mudslides and flooding taking place in Peru are the worst seen in at least two decades, This event is affecting more than half the nation as the death toll since the beginning of the year has risen to 72. Sources indicate that
the government has reported 374 people killed in 1998 during a similar period of massive rains and flooding caused by rains blamed on the El Nino climate pattern. The rains have reportedly overwhelmed and taken much toll on the drainage system in the cities along Peru's Pacific coast and the health ministry has started fumigating around the pools of water that have formed in the streets to kill mosquitoes that carry diseases like dengue.