Planet X Incoming:

AWAKENING? Nearly 300 Earthquakes Have Rattled Yellowstone in the Last 7 Days
Is it possible that the Yellowstone supervolcano is gearing up for a major eruption? If you follow
my work
on a regular basis, you already know that I spend a lot of time documenting how the crust of our planet is becoming increasingly unstable. Most of this shaking is taking place far away from the continental United States, and so most Americans are not too concerned about it. But we should be concerned about it, because a major seismic event could change all of our lives in a single instant.
For instance, a full-blown eruption of the Yellowstone supervolcano would have the potential of being an E.L.E. (extinction level event). That is why it is so alarming that there have been
296 earthquakes
in the vicinity of the Yellowstone supervolcano within the last 7 days. Scientists are trying to convince us that everything is going to be OK, but there are others who are not so sure.
The biggest earthquake in this swarm occurred last Thursday evening. It was initially measured to be a magnitude 4.5 earthquake, but it was later downgraded to a 4.4. It was the biggest quake in the region since a magnitude 4.8 earthquake struck close to Norris Geyser Basin in March 2014. This magnitude 4.4 earthquake was so powerful that people felt it
as far away as Bozeman
:
The main quake was centered about 5.8 miles underground.
The quake and aftershocks occurred just over 8 miles northeast from West Yellowstone, according to the U.S. Geological Service.
A witness reported that she felt the building she was in move.
Dozens of people reported that they felt it in and around West Yellowstone, Gardiner, Ennis and Bozeman.
But by itself that one quake would only be of minor concern. What is troubling many of the experts is that this earthquake has been accompanied by 295 smaller ones.
There is normally a rise in seismic activity before a volcano erupts, and according to theoretical physicist Michio Kaku, a long overdue eruption at Yellowstone could
"rip the guts out of the USA"
:
Scientists currently believe that there's a 10 percent chance that a "supervolcanic Category 7 eruption" could take place this century, as pointed out by theoretical physicist Michio Kaku, who appeared on a segment for Fox News.
The gray-haired physicist told Shepard Smith that the "danger" we are now facing with the caldera is that it's long overdue for an eruption, which Kaku said could "rip the guts out of the USA."
Kaku said that a "pocket of lava" located under the park has turned out to be twice as big as scientists originally thought.
I would like to try to describe for you what a full-blown eruption of the Yellowstone supervolcano would mean for this country.
Hundreds of cubic miles of ash, rock and lava would be blasted into the atmosphere, and this would likely plunge much of the northern hemisphere into several days of complete darkness. Virtually everything within 100 miles of Yellowstone would be immediately killed, but a much crueler fate would befall those that live in major cities outside of the immediate blast zone such as Salt Lake City and Denver.
Hot volcanic ash, rock and dust would rain down on those cities literally for weeks. In the end, it would be extremely difficult for anyone living in those communities to survive. In fact, it has been estimated that 90 percent of all people living within 600 miles of Yellowstone would be killed.
Experts project that such an eruption would dump a layer of volcanic ash that is at least 10 feet deep up to 1,000 miles away, and approximately two-thirds of the United States would suddenly become uninhabitable. The volcanic ash would severely contaminate most of our water supplies, and growing food in the middle of the country would become next to impossible.
In other words, it would be the end of our country as we know it today.
The rest of the planet, and this would especially be true for the northern hemisphere, would experience what is known as a "nuclear winter." An extreme period of "global cooling" would take place, and temperatures around the world would fall by up to 20 degrees. Crops would fail all over the planet, and severe famine would sweep the globe.
In the end, billions could die.
So yes, this is a threat that we should take very seriously.
But today, most Americans think of Yellowstone as little more than a fun tourist attraction. But the truth is that many tourists have discovered just how dangerous Yellowstone can be. Some have been scalded by boiling water from geysers that can get as hot as 250 degrees Fahrenheit, and one man from North Carolina recently had to be flown to a burn center
after he mistakenly fell into a hot spring
:
A North Carolina man was flown to the University of Utah Burn Center after falling into a hot spring at Yellowstone National Park late Tuesday night.
Gervais Dylan Gatete, 21, was with seven other people in the Lower Geyser Basin north of Old Faithful when he fell, according to a park news release.
The group attempted to transport Gatete, an employee with Xanterra Parks and Resorts, by car for medical treatment. Just before midnight, they flagged down a park ranger near Seven Mile Bridge on the West Entrance Road.
Since Yellowstone is still very active, scientists assure us that it will erupt again one day.
And when that happens, all of our lives will be completely turned upside down in a single moment.
Michael Snyder
is the founder and publisher of
End Of The American Dream
.
YELLOWSTONE New Quakes & Evacuation Plan: Scientists Find 4X Magma Under Supervolcano
Yellowstone's Geysers May Hold Clues to Changes Within the Super Volcano
PLANET X NEWS - Yellowstone Earthquake Swarm Continues, Causing Panic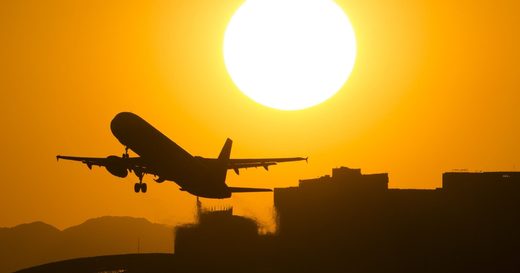 The extreme heat forecast for Phoenix on Tuesday has caused the cancellation of 20 American Airlines flights out of Sky Harbor International Airport.
According to a statement from American Airlines, the American Eagle regional flights use the Bombardier CRJ aircraft, which has a maximum operating temperature of 118 degrees. Tuesday's forecast for Phoenix included a high of 120 degrees, and the flights that are affected were to take off between 3 and 6 p.m. MT.
Customers affected were told to contact American Airlines for rebooking options or to request a refund.
Extreme heat affects a plane's ability to take off. Hot air is less dense than cold air, and the hotter the temperature, the more speed a plane needs to lift off. A runway might not be long enough to allow a plane to achieve the necessary extra speed.
American Airlines alerted travelers on Saturday about the heat wave and recommended they change any flights scheduled to arrive or depart between 3 and 6 p.m. Monday, Tuesday or Wednesday. The flight changes would be free of charge.
This is reminiscent of Phoenix's record-setting high temperature of 122 degrees on June 26, 1990, which grounded some airlines for the day. Larger jets, such as Airbus and Boeing, aren't expected to be affected by this week's heat.
Planet X Incoming: Birth Pangs May, 2017