Prayers: Georgia expands state of emergency after tornadoes; 20 dead across Southeast
The latest earth changes....the storms and tornadoes will only continue to get worse
Georgia ramped up its state of emergency Monday as crews organizing the cleanup from the weekend's deadly storms begged for additional aid.
Gov. Nathan Deal expanded his emergency declaration to include nine additional counties in southern Georgia. The declaration frees up state resources to assist storm victims. The storms killed at least 20 people, most of them in Georgia.
SLIDESHOW: DEADLY TORNADOES SLAM SOUTHEAST
The governor promised to visit the storm-ravaged areas later this week, offering his "thoughts and prayers" to victims there.
North Georgia was under a wind advisory for most of the day Monday, as forecasters warned wind gusts could top 40 mph,
Fox 5 reported
. The National Weather Service issued a flood warning for much of Charlotte, N.C., as well as for several streams in Cabarrus County just east of Charlotte.
Emergency officials in Georgia confirmed a 20th death in connection with the storms. Dougherty County Coroner Michael Fowler said a fourth person died in his county Sunday, without elaborating.
Many families in the area had "no homes, no food, no warmth, no hope," County Commission Chairman Chris Cohilas said during a news conference Monday, apparently choking back tears. Pleading for aid, he said, "we've exhausted everything we have."
At least 15 people were killed in south Georgia alone, including seven from an apparent winter twister that tore through a trailer park before dawn Sunday. Officials reported four deaths Saturday in Mississippi as the storm system ramped up. In addition, a tree knocked over by strong winds split a home in half, killing one person in Columbia County, Fla., emergency officials said.
In southwest Georgia, Bridget Simmons along with her parents, her daughter and her grandson were in their brick home in the city of Albany when the sky got dark Sunday afternoon and the wind began to howl.
"I was in the den and I heard that loud roar and I grabbed the baby and I said, `Let's go guys. This is it.' We laid down and that was it." The wind was so loud, she added, "you could hear it beating back and forth."
Minutes later, their home was largely unscathed, save for a carport that collapsed atop two cars. But trees were down all around, police sirens wailed and authorities would add four more deaths for an overall count of at least 19.
The National Weather Service said a survey team concluded Monday that a tornado left a path of destruction a half-mile wide in parts of Albany. The agency said it was an EF-2 tornado or stronger, meaning it packed winds of at least 111 to 135 mph.
Some 60 miles away from Simmons' home, Coroner Tim Purvis in south Georgia's Cook County confirmed seven people died at the mobile home park in the rural community of Adel, where about half of the 40 homes were leveled. Debris lay about not far from mobile homes largely untouched but emptied of survivors and cordoned off by police.
Elsewhere, shredded siding from mobile homes, a house stripped of exterior walls but left standing, even a piano blown outdoors, all bore evidence of the power of the powerful storms system that tore across the Deep South.
The 15 killed in south Georgia included two deaths each in the counties of Berrien and Brooks.
In South Carolina, the National Weather Service has confirmed that two tornadoes struck over the weekend, injuring one woman who was trapped in a mobile home that was damaged near Blackville. The weather service says a tornado touched down about 3:45 p.m. Saturday in Barnwell County and moved into Bamberg County. The other occurred in Orangeburg County a few minutes later.
Weather experts say tornadoes can hit any time of year in the South -- including in the dead of winter. Even north Florida was under the weekend weather threat.
While the central U.S. has a fairly defined tornado season -- the spring -- the risk of tornadoes "never really goes to zero" for most of the year in the Southeast, explained Patrick Marsh of the Storm Prediction Center in Norman, Oklahoma.
He said 39 possible tornadoes were reported across the Southeast from early Saturday into Sunday evening -- none immediately confirmed. Of that, 30 were reported in Georgia, four in Mississippi, and one each in Louisiana and South Carolina.
January tornado outbreaks are rare but not unprecedented, particularly in the South. Data from the Storm Prediction Center shows that, over the past decade, the nation has seen an average of 38 tornadoes in January, ranging from a high of 84 in 2008 to just four in 2014.
Nineteen-year-old Jenny Bullard said she and her parents, Jeff and Carla, are glad to have escaped without major injury after an apparent tornado battered their home in Cook County. They are a farming family dating back generations, living not far from where the mobile homes were destroyed.
The middle section of their brick house was blown off the slab, leaving nothing but the kitchen island standing. On one side, the parents' bedroom remained intact. Jenny's bedroom on the other side was smashed in -- and a piano was blown out of the house.
She recalled awaking to the sound of hail before dawn.
"The hall wall came in on me and I fell down. And our backdoor came through and fell in on me. And I heard my dad calling my name ...There was a bunch of stuff on top of him and I just started throwing everything I could until I got to him," she said.
Together, she and her father met up with their mother and got free.
The young woman wore a sling on one arm hours afterward Sunday as she went back through the debris for belongings. Bricks lay scattered about, alongside their possessions and furniture.
"The first thing I wanted to do was get all the pictures," she said. Across the street, where the Bullards kept farm equipment in sheds, one shed was blown in amid twisted metal. Two grain silos were blown over.
"It's a horrible tragedy. But all this stuff can be replaced," she said. "We can't replace each other. We're extremely lucky. My dad is lucky to be alive."
State of disaster in Argentina and Chile as worst fires in decades devastate the countries
Chile and neighbouring Argentina have declared 'states of catastrophe' due to worst forest fires in decades.
Over 175,000 square miles of raging inferno in the area south of Santiago in Chile and more than one million hectares across several locations in Argentina have been ravaged. And high winds are currently blowing!
Fire fighters are battling the worst forest fires for over 10 years in central Chile as President Michelle Bachelet declares
the state of "catastrophe"
.
Over
175,000 square miles were the site of a raging inferno in the area south of Santiago
, the country's capital city. More than
200 people were evacuated as hundreds of firefighters, military and forestry workers were brought into the region to battle the blaze.
Josephina Lopez, from to the country's National Emergency Office (ONEMI), said
no fatalities have been reported yet but huge economic losses were expected.
The disaster was called "a sort of earthquake" for the area, agriculture minister Carlos Furche said on Chile's national radio, with a
farming emergency declared. Crops and vineyards have been destroyed.
President Bachelet was seeking help from other countries, including its neighbour Argentina, while France had already offered assistance. "
I've instructed the Interior Ministry to declare a catastrophe zone and a state of emergency in the areas affected by the fires
," President Bachelet said on Twitter.
By calling a state of catastrophe, military personnel can be deployed to assist in dousing the wildfires.
Helicopters and planes were needed to drop fire retardant onto the forest areas, as high winds and a heat wave fuel the flames. Thick smoke from the intense fires is causing a thick haze over acres of land.
Television news footage showed
helicopters and planes attempting to put out the fires, but apparently to little effect.
Authorities are attempting to discover
the cause of the blaze although the forests have been extremely dry after several weeks without rain. January is the hottest month of the Chilean summer.
The head of Chile's CONAF forestry service, Aaron Cavieres, said the, fires were caused by people, but whether they were set on purpose could not yet be determined. In 2014, a fire in Valparaiso killed 15 people and destroyed over 2,000 homes.
Meanwhile, in neighbouring Argentina,
a state of disaster and an agricultural emergency were declared in the province of La Pampa, on Sunday
.
Wildfires have ravaged more than
one million hectares across several locations
, according to local authorities.
The argentinian wildfire started during a dry storm, which saw around
500 lightning strikes in a predominately dry grass area
.
Bogoslof back to red alert, eruptions and increased activity at Reventador (Ecuador), Erta Ale (Ethiopia) and quake swarm at Katla (Iceland)
Increased volcanic activity is reported around the world.
Bogoslof is back to red alert, eruptions and increased activity are reported at Reventador (Ecuador), Erta Ale volcano (Ethiopia) and a quake swarm is currently rattling Katla (Iceland).
Supervolcanoes may erupt once
, creating devastating conditions on Earth. Meanwhile smaller volcanoes are continuously active on Earth. Here a report:
After the eruption of Bogoslof volcano (Alaska) on January 22, 2017 (14:09 AKST / 23:09 UTC), the aviation code has been revised to red and the level of volcanic alert to Warning.
The strong explosion was detected by the lightning detection network in the absence of interpretable seismic data due to stormy winds. A plume of ash and gas was located by satellite reaching more than 9,000 meters and moving northward.
In Ecuador, the Reventador maintains high level of activity. IGEPN reported 3 episodes of emission tremor, 4 harmonic tremors, 25 LP earthquakes and 32 explosions.
A gas plume containing little ash was detected moving towards the north.
The thermal anomaly discovered by Mirova at Erta Ale volcano is currently very strong with energy peaks between 5,882 MW and 7,368 MW on January 22, 2017, after a maximum of 13,434 MW on January 21.
This image captured on January 19 by Sentinel satellite shows the overflow of the lava following the edge of the caldera.
Meanwhile, Katla wass experiencing a nice little swarm this morning!
Mount Paektu supervolcano in North Korea is set to erupt and cause a global catastrophe
Mount Paektu, a deadly and active North Korean super volcano, is set to erupt and cause a global catastrophe, the likes of which would not have been seen for a thousand years.
The active volcano is responsible for one of the deadliest eruptions in human history and experts believe history is about to repeat itself.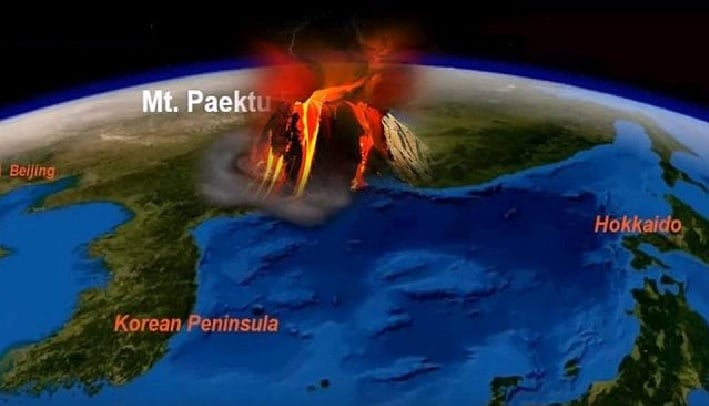 The 9,000 feet giant volcano located on the border between North Korea and China is the highest peak of the Korean Peninsula.
Mount Paekdu is not far from a North Korean nuclear test facility where the government is conducting nuclear bomb tests.
Such has been the fear around Mount Paektu that it has sparked a rare collaboration with North Korea and the West, with the largely secretive nation inviting scientists from the UK and US to help study it.
This volcano was thought to have minimal sulphur release. Now,
new studies show
that the eruption could eject far more sulphur into the atmosphere than previously thought. In contrast to earlier estimates, the 946 eruption did eject large volumes – up to 45 megatons – of sulphur into the atmosphere.
AND THAT COULD DEVASTATE LIFE ON EARTH!
What appears to be fireball has been spotted in the Yorkshire skies.

A short video clip, filmed by 22-year-old Abbey Shaw, seems to show a blaze of fire streaking through the sky above Huddersfield.

Shaw, who works at the University of Huddersfield's IT department, is baffled as to what it could be.

'I don't have a clue what it is,' she said, 'It looks like some sort of fireball. I do not think for one minute that it is a plane! 'Everyone at work agrees with me too. You can tell by the speed that it is travelling at.
Lizzie Stromme
Express UK
Mon, 23 Jan 2017 14:06 UTC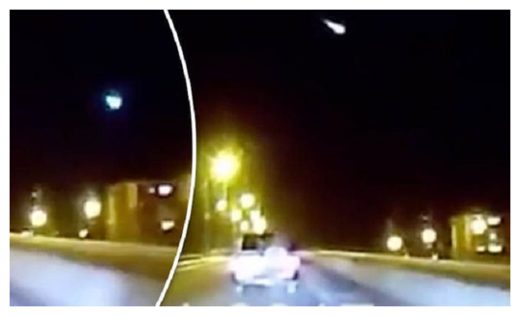 Motorists in the city of Omsk in Siberia were treated to the rare phenomenon as the falling space rock crashed to earth.
The meteor, which appeared in the Omsk Oblast, appeared to be a massive fireball and was visible for miles.
However experts say the flaring object was actually probably small enough to fit in your pocket.
Vladimir Krupko, head of the local planetarium, said: "Most likely it was a small meteorite, the size of a walnut.
"Since it was flying up high in the air, it was visible from other cities as well.
"When it entered the atmosphere it caught fire at about 120 kilometres (74.5 miles) above the ground, and by the time it was 40-60 kilometres (25-37 miles) above the ground the fire had gone out."
Despite there being plenty of larger objects whizzing around our solar system, no large meteorites, which are debris from a comet, asteroid, or meteoroid, are expected for at least 100 years, Mr Krupko said.
He added: "There are 3,000 meteorites close to the surface of the Earth, some of them are several kilometres in size.
"Most of them pass on the other side of the orbit of the Moon. We are keeping an eye on them!"
A Siberian city witnessed a once in a lifetime experience in December as a
meteor turned night into
day as it exploded in the sky. Nikolay Soldatov, a local resident, said the exploding meteor could be seen for about four seconds as it "emitted a cold light like a fluorescent lamp".
He said: "I saw that it was starting to brighten fast. The flash was really bright.
"It wasn't blinding, but it was still bright. I looked up and... above the city hospital there was a meteor."
Meanwhile, Sergey Isaykin said that despite it triggering car alarms across the city, they were not scared as they quickly realised it was a meteor exploding.
He said: "It was very beautiful. You don't see this every day.
"But we weren't scared as we instantly understood that it was something like [what happened] in Chelyabinsk three years ago."
The explosion was best visible in the town of Sayanogorsk and about 30 seconds after burning out across the sky, a loud bang was heard.