Fatima/WW3 Watch:

US troops hold joint drills in Poland to prevent attack from the East
US and Polish soldiers, alongside newly delivered American military hardware, have conducted joint drills as part of the biggest US deployment in Europe since the end of the Cold War.
Servicemen of the 3,500-strong 3rd Armored Brigade Combat Team, 4th Infantry Division, from Fort Carson, Colorado showcased some of their skills in front of Commander of the US Army Europe, Lieutenant General Ben Hodges, US Ambassador Paul Jones and Polish President Andrzej Duda said in Zagan on Monday.
The drills, which started at around 1:30 pm local time and lasted for about an
hour
, demonstrated US troops' resolve to deter the
"unlikely"
potential aggression from Russia.
During the live fire exercises in Zagan, Polish-American forces split up into two teams. The task of the exercise was to stop the "enemy" advance from Zagan firing range over the distance of over 30 km to Zielona Gora. Leopard tanks from Poland's 11th Armored Cavalry Division and the American Abrams tanks managed to repel the "enemy attack." Anti-aircraft artillery and helicopters were also involved in the drill.
"The best way to make sure that there is never an attack [from Russia] and I believe it's unlikely, and the best way to keep it unlikely is to show a strong, deterrent capability,"
Lieutenant General Hodges, told reporters.
Read more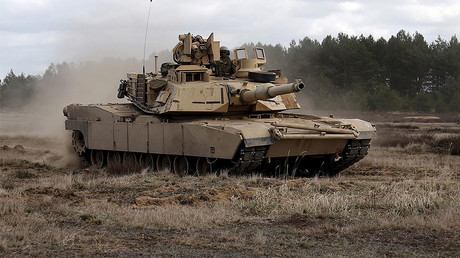 Eighty-seven US battle tanks, 144 Bradley fighting vehicles, and 3,500 soldiers arrived in Europe earlier this month as part of NATO's buildup near Russia's borders, agreed at the NATO summit in Warsaw in July.
The arrival of American military equipment and personnel in Poland is another step in Operation Atlantic Resolve, a large-scale military undertaking the US launched in April of 2014, right after Crimea voted to be part of Russia.
The largest military buildup in Europe since the end of the Cold War was part of the Obama administration's efforts to deter what it called growing 'Russian aggression' in Eastern Europe.
Moscow has repeatedly voiced concerns over such buildup.
"These actions threaten our interests, our security,"
President Vladimir Putin's spokesman Dmitry Peskov said earlier this month.
"Especially as it concerns a third party building up its military presence near our borders."
After the military exercises, the soldiers are to be distributed across Poland, Bulgaria, Romania, and the Baltic countries. The headquarters unit will be stationed in Germany.
"Poland will become the center of gravity for US operations in Europe,"
Hodges told reporters.
"We believe an attack from the east is unlikely, but it's having troops on the ground here that makes it even more unlikely."
The deployment of 3,500 soldiers to Europe on a nine-month rotational basis comes at a time when the new US leader, Donald Trump has delivered mixed messages on NATO.
While calling the alliance
"obsolete"
in an interview days before his inauguration, Trump in a meeting with the British Prime Minister Theresa May last week confirmed American commitment to NATO.
The US president
"confirmed he's 100 percent behind NATO,"
May told reporters last week following a bilateral meeting.
Trump has also spoken with other European leaders in Germany and France last week, with NATO featuring prominently during their discussions.
"Our president has spoken with Prime Minister May, Chancellor Merkel and President Hollande and what I have heard is the affirmation of the importance of NATO and the United States commitment to NATO,
" Hodges
said
of Trump's phone calls and May's trip to Washington.
Read more
At the same time, Trump, in a phone call with President Putin over the weekend, signaled that a new Russian – American partnership is possible following deteriorating bilateral relations during the Obama administration.
With uncertainty prevailing in European capitals over US commitment to NATO, Lt. Gen. Timothy Ray, deputy commander of US European Command, said the military is operating under the assumption that the American commitment will not be short-lived.
"Security in the United States begins with security in Europe,"
he said,
according
to Stripes.
"We intend to be here for quite some time."
The US ambassador to Poland Paul Jones also voiced support for NATO's deployment to Eastern Europe.
"We will deter and defend across the whole spectrum of conflict,"
Jones said, pledging that the United States, Canada, and European allies will
"defend every inch of alliance territory together."
Polish President Andrzej Duda welcomed the US commitment. Calling the American troop deployment in Poland a
"historic moment."
"We welcome our allies here today with open arms,"
Duda said.
"I do believe that this presence is going to further strengthen the transatlantic bond and our collective security."
Meanwhile, the Polish Defense Minister Antoni Macierewicz sung the praises of the new US administration. "
Today I know that Poland will not be threatened,"
Macierewicz said.
"God bless American President Trump."
US Sends Military Supplies To Syrian Alliance In First Under Trump Admin
Confirming that the US role in the Syrian conflict is likely to expand in the coming months,
Reuters reported
that the U.S.-led coalition against Islamic State has supplied its Syrian allies with armored vehicles for the first time, expanding support since U.S. President Donald Trump came to office.
The armored vehicles and troop carriers had arrived four or five days ago, said Talal Silo, spokesman for the Syrian Democratic Forces (SDF) alliance, which includes the Kurdish YPG militia.
Though the number was small, he said, "this is evidence that there are signs of new support". "Previously we didn't get support in this form, we would get light weapons and ammunition," he said.
"There are signs of full support from the new American leadership - more than before - for our forces," he said.
As a reminder, yesterday the Syrian government lashed out at the Trump proposal for an implementation of "safe zones" in Syria. It remains to be seen how Assad,
whose health has been put in question recently
, will respond to this clearest indication yet that the Trump admin plans to maintain its involvement in the Syrian proxy war.
China Tests Missile With 10 Warheads
China flight tested a new variant of a long-range missile with 10 warheads in what defense officials say represents a dramatic shift in Beijing's strategic nuclear posture.
The flight test of the DF-5C missile was carried out earlier this month using 10 multiple independently targetable reentry vehicles, or MIRVs. The test of the inert warheads was monitored closely by U.S. intelligence agencies, said two officials familiar with reports of the missile test.
The missile was fired from the Taiyuan Space Launch Center in central China and flew to an impact range in the western Chinese desert.
No other details about the test could be learned. Pentagon spokesman Cmdr. Gary Ross suggested in a statement the test was monitored.
"The [Defense Department] routinely monitors Chinese military developments and accounts for PLA capabilities in our defense plans," Ross told the
Washington Free Beacon
.
The test of a missile with 10 warheads is significant because it indicates the secretive Chinese military is increasing the number of warheads in its arsenal.
Estimates of China's nuclear arsenal for decades put the number of strategic warheads at the relatively low level of around 250 warheads.
U.S. intelligence agencies in February
reported
that China had begun adding warheads to older DF-5 missiles, in a move that has raised concerns for strategic war planners.
Uploading Chinese missiles from single or triple warhead configurations to up to 10 warheads means the number of warheads stockpiled is orders of magnitude larger than the 250 estimate.
Currently, U.S. nuclear forces—land-based and sea-based nuclear missiles and bombers—have been configured to deter Russia's growing nuclear forces and the smaller Chinese nuclear force.
Under the 2010 U.S.-Russian arms treaty, the United States is slated to reduce its nuclear arsenal to 1,550 deployed warheads.
A boost in the Chinese nuclear arsenal to 800 or 1,000 warheads likely would prompt the Pentagon to increase the U.S. nuclear warhead arsenal by taking weapons out of storage.
The new commander of the U.S. Strategic Command, Air Force Gen. John Hyten, stated during a Senate confirmation hearing in September that he is concerned about China's growing nuclear arsenal.
"I am fully aware that China continues to modernize its nuclear missile force and is striving for a secure second-strike capability," Hyten told the Senate Armed Services Committee.
"Although it continues to profess a 'no first use' doctrine, China is re-engineering its long-range ballistic missiles to carry multiple nuclear warheads and continues to develop and test hyper-glide vehicle technologies," Hyten added.
"These developments—coupled with a lack of transparency on nuclear issues such as force disposition and size—may impact regional and strategic stability and are cause for continued vigilance and concern."
The 10-warhead missile test comes amid heightened tensions with China. State-run media in recent weeks has carried reports calling for China to expand its nuclear forces. A broadcast report showed that new long-range mobile missiles could strike the entire United States.
The Chinese state television channel CCTV-4 last week broadcast nuclear threats, including graphics showing new DF-41 missiles deployed in northern China and graphics showing the missiles' strike path into the United States. The Jan. 25 broadcast included a graphic of a 10-warhead MIRV bus for the DF-41.
Fatima 2017: Your Time Is Up!