Planet X Incoming: Giant Earth crack opens up in Northern Cape, South Africa
Latest earth changes & more mystery sounds
A giant earth crack has been spotted in Northern Cape along the R31 between Daniëlskuil and Kuruman in South Africa. The road has been closed down. According to residents, the fissure is getting worse and expanding every single minute!
A
huge earth crack in South Africa is swallowing parts of a farm and soon a road in Northern Cape. Picture via TwitterThe huge fissure is on what appears to be a farm and near the road. The road between Kuruman and Danielskuil has been closed due to the sinkhole.
READ MORE
50-feet wide, 80-foot deep sinkhole Opens in Northeast California
Recent storms have challenged Northern California's five-year drought, but Mother Nature has wreaked havoc on roads and property. The doors were shuttered on Wednesday and Thursday at Liberty Motors, where a huge sinkhole opened near the parking lot behind the dealership and its former building next door, which was recently sold to Tripp's Auto Body. Liberty Motors and Tripp's resides on top of a culvert that failed. The culvert is a tributary to Little Wolf Creek.
While it hasn't been established for certain that weather is to blame, it also isn't the first to open this week. A sinkhole about 15 feet in diameter opened underneath The Stonehouse in Nevada City on Tuesday. "The exact cause is something we're still trying to determine, but due to it failing, it's created a sinkhole about 80 to 100 feet deep, probably 60-by-50 at the top, so it's a fairly big hole at this point in time," said Tim Kiser, the public works director for the City of Grass Valley.
READ MORE
A massive sinkhole caused the collapse and closure of Alhambra Valley Road, near Pinole and Richmond, on Wednesday, according to the Contra Costa County Department of Public Works.
The road was closed indefinitely after the pavement and earth below it crumbled and washed away, leaving a large gap on a popular roadway in the East Bay.
"This route to DVC, for me, cuts a 22-mile commute to 13 miles, so that's crazy," said Andony Husary of Pinole.
Drivers were forced onto alternate routes as crews scrambled to repair the road.
"The Pinole Creek, it runs right through there," Pinole resident Jeremy Gomez said. "There's probably a 6 to 8-foot drainage pipe under there. Obviously it went out. It's crazy, real deep. I don't know how they're going to fix it."
County officials also closed several other roads Wednesday because of mudslides and flooding. Another sinkhole opened in Orinda after heavy rains washed away part of a culvert near Miner and Camino Pablo roads.
Utility crews there couldn't work fast enough. "We are actually having to triage the lower priorities to probably the following days," said Larry Theis, Orinda's Public Works director. "It does take up to 6,000 cars a day, so it is a major corridor."
Meanwhile, county crews worked to reopen Marsh Creek Road, Morgan Territory Road and McEwen Road. Drivers are encouraged to use Interstate 680 or Highway 4 as alternate routes. There was not an estimated timeframe for reopening the roads.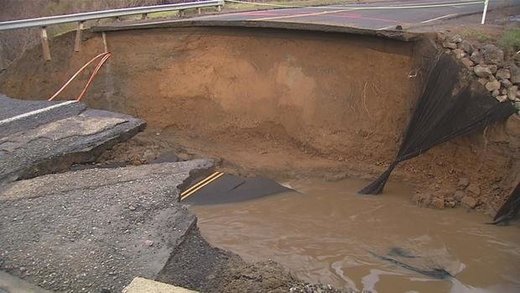 In Martinez, the downtown area was still partially in the dark after overflowing Alhambra Creek flooded some businesses and residences late Tuesday night. PG&E crews were working to restopre power Wednesday night.
In Benicia
, city officials declared a state of emergency after flood waters overwhelmed storm draind and seeped into homes and businesses.
In Lafayette, a massive tree crashed into the family room of Mark Vaisnor's home while his 88-year-old father was standing in the nearby kitchen.
"This is much worse than the storm that came in over the weekend," he said. "It's unbelievable."
The flooding in Contra Costa County resulted from overflowing backed-up creeks, blocked drainage inlets, broken levees and heavy rain, officials said.
17 volcanoes are currently erupting around the world
Here are the following eruptions and ash emissions as mentioned in the weekly report by GVP dated 4-10 January 2017.
There are 17 volcanoes currently erupting around the world!
Suwanose-jima, Ryukyu Islands: 4-5 January.
Sinabung, Indonesia: 2-3 and 8-10 January.
Sheveluch, Kamchatka Peninsula: 30 December 2016-6 January 2017.
Semeru, Indonesia: 9th January.
Reventador, Ecuador: 6-7 January.
Nevados de Chillan, Chile: ash emission during 6th January.
Nevado del Ruiz, Colombia: 6th and 8th January.
Masaya, Nicaragua: 5th January.
Langila, Papua New Guinea: 2nd and 5th January.
Kilauea, Hawaii: lava flows during 4-10 January.
Dukono, Indonesia: 4-5 and 7-10 January.
Colima, Mexico: 3-10 January.
Bagana, Papua New Guinea: 7-8 January.
San Miguel, El Salvador: steam plumes containing minor amounts of ash during 7th January.
Sabancaya, Peru: 3-10 January.
Ebeko, Kurile Islands: plumes containing minor amounts of ash during 30 December 2016-6 January 2017.
Bogoslof, Aleutian Islands: 3rd, 5th, and 8th January.
And the volcanic unrest continues…
Mystery Boom Phenomenon 2016 Compilation