Historic Flooding Closes Hundreds of Roads in 3 States; St. Louis Cut Off From Southeast Missouri
GOOD FRIDAY (March 23) 1961
The Madonna speaks to Blessed Aiello (approved): "My daughter, the scourge is near. Much is spoken of peace, but all the world will soon be at war, and the streets will be stained with blood! No gleam of light is seen in the world, because men live in the darkness of error, and the enormous weight of sin angers the justice of God."
"All nations will be punished, because sin has spread all over the world! Tremendous will be the
punishments, because man has arrived at an insupportable contest with his God and Father, and has exasperated His infinite Goodness!"
rising water levels on the Meramec River
inundated numerous roads.
MoDot says the roads will remain closed for the remainder of the week, reports WPSD. A 57-mile stretch of I-44 from central to southern Missouri is also closed, along with a 23-mile stretch in suburban St. Louis, according to the AP. So far, five people have died in Missouri flooding, and several towns have sustained damage. Along the Meramec River, in suburban St. Louis, thousands of sandbags are protecting homes and businesses in Eureka, and authorities fear a breach on a levee in nearby Valley Park, reports the Associated Press.
READ MORE
650 Aftershocks Continue to reel Valparaiso, Chile since Magnitude 6.9 earthquake on April 25th
A little more than 650 aftershocks have been recorded off Valparaiso since a Magnitude 6.9 earthquake hit the region 10 days ago. This intensification in seismic activity frightens the Chilean population, which started to prepare in fear of a Big One. A little more than a week after the strong
M6.9 earthquake that hit 72 kilometers west of Valparaiso in Chile
, the National Seismological Center (CSN) reported that more than 650 aftershocks have been meaured in the region.
About 130 tremors hit the region prior the major event. Sergio Barrientos, director of the CSN and doctor of seismology at the University of California, says
there is no way to know how long the replicas will last or how many there will be in total.
Everything will depend on the moment when the deformation and the friction of the plates will
stop
.
READ MORE
Richard Davies
Floodlist
Wed, 03 May 2017 16:12 UTC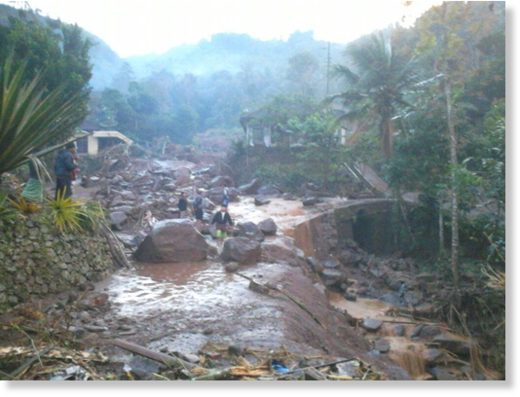 At least 10 people have died in flash floods in Magelang Regency in Central Java province, Indonesia.
The floods struck on 29 April after a period of heavy rain, according to Indonesia's national disaster management agency BNPB. Flooding affected several hamlets near the villages of Sambungrejo and Citrosono, both in Grabag Sub-district.
BNPB says that 4 people were injured and 2 people are still missing. Search operations are continuing. Over 1,500 personnel from military, police, local emergency services, volunteers and disaster agencies are working in the area carrying out search and relief efforts.
Around 170 people from 46 families have been forced to evacuate their homes and are staying in a local mosque or with friends or relatives. Over 70 homes have been damaged or destroyed in the floods.
Wendy Osher
Maui Now
Sat, 29 Apr 2017 19:50 UTC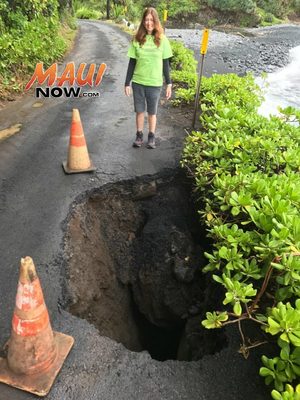 Maui police have closed the Piʻilani/Hāna Highway at Mile 39 due to a "large sink hole," which has made the road impassable.
Police say the closure is on the Kaupō side of the Alalele Bridge.
A
similar incident was reported about two weeks ago
, on April 12, 2017, in the same area.
Police have confirmed that this is the same sink hole and that it has re-opened.
There is no estimated time for when the road will be reopened.
County of Maui Communications Director Rod Antone said Crews from the Public Works Department have closed the road to non-emergency vehicles until repairs can be made.
Antone said crews expect the road to be closed overnight and open again tomorrow after workers can cover the sinkhole with metal plating.
Motorists should take an alternate route until repairs are complete.
FEAST OF THE IMMACULATE HEART - August 22, 1960
The Madonna speaks to Blessed Aiello: "The hour of the justice of God is close, and will be terrible!"

"Tremendous scourges are impending over the world, and various nations are struck by epidemics, famines, great earthquakes, terrific hurricanes, with overflowing rivers and seas, which bring ruin and death."

"If the people do not recognize in these scourges (of nature) the warnings of Divine Mercy, and do not return to God with truly Christian living, ANOTHER TERRIBLE WAR WILL COME FROM THE EAST TO THE WEST. RUSSIA WITH HER SECRET ARMIES WILL BATTLE AMERICA; WILL OVERRUN EUROPE.
"And the Earth Shall Swallow up..."